A Concise Guide to Building a Fintech App
Financial technology (fintech) solutions make financial operations safer and more convenient for banking institutions and consumers alike. Fintechs have transformed the way we approach general banking, accounts, investments, and more. 
The number of mobile banking startups increases year on year, with the pandemic stimulating this growth further. Data from early 2020 showed a steady surge in fintech app engagement: banking, payment, and investment apps experienced 26%, 49%, and 88% increases to the number of sessions respectively. The boost in investments in fintech startups is even more impressive: venture capital firms ploughed slightly over $1 billion into new products in 2019 and over $44 billion in 2020. 
Even though there are thousands of fintechs competing for attention from users and interest from investors, demand isn't shrinking. This is no surprise since fintech covers numerous areas and there are plenty of challenges left to solve in the still burgeoning industry. 
To win over the market and get in on the action, you first need to know how to build a fintech app. Here, we cover some of the basics including fintech app types and categories, the trends shaping the industry's future, and the must-have features in fintech products. 
Fintech app types and categories
Fintech apps help us manage all aspects of our finances, accordingly, they can be divided into several types and categories:
Payments and money transfers. Consumers increasingly choose digital payments over cash. They need easy-to-use solutions for different financial operations, from peer-to-peer lending to international transfers. Examples: Venmo, PayPal.
Digital banking. Most banks offer mobile apps as a convenient alternative to visiting a physical branch for transactions. Digital-only banks are emerging to compete with traditional institutions. Examples: Ally Bank, Capital One.
Personal finances and savings. Wealth management, credit monitoring, and personal finance analytics are in high demand among consumers who want control over their finances with minimum manual effort. Examples: Truebill, Mint.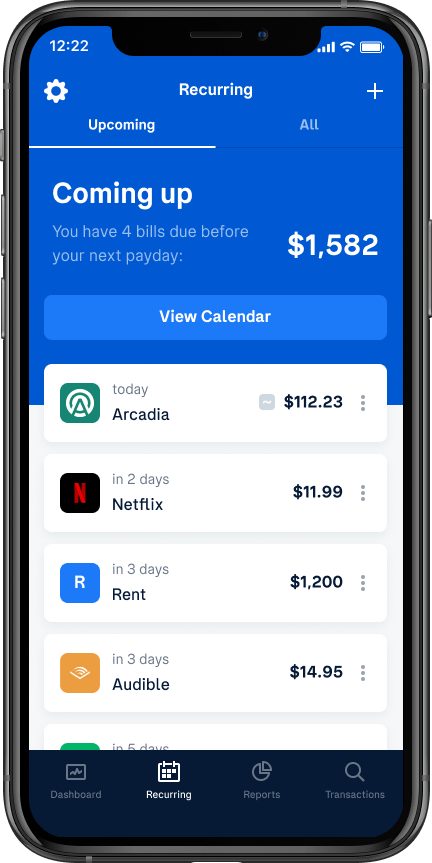 Subscription payment management in the Truebill app. Source: Truebill
Insurance. A plethora of apps allow users to compare covers and purchase and manage any type of insurance. Examples: Lemonade, Cover. 
Cryptocurrency purchases and trading. With crypto markets firmly established in the financial world, fintechs emerge to help users buy and sell digital currencies and receive trading insights. Examples: BitPay, CoinBase.
Investments. Mobile fintech has made buying and trading stocks and securities more accessible and straightforward. Robo-advisors — online services that automate investments and help users build strong investment portfolios based on algorithm-driven insights — are increasingly popular in this niche. Examples: Wealthsimple, Robinhood.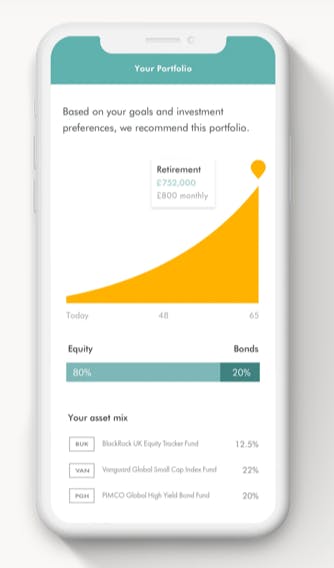 Investment portfolio recommendations in the Wealthsimple app. Source: Wealthsimple
Expense management for businesses. Corporate banking fintechs and business finance apps help manage employee expenses, payrolls, and taxes, as well as automate bookkeeping processes. Examples: Expensify, Zoho Expense. 
Crowdfunding platforms. These platforms allow anyone to raise funds for an early-stage project or social cause and integrate membership-based payments accessible around the globe. Examples: Kickstarter, Patreon.
Regtech. A range of services are dedicated to solving compliance issues and helping organisations that deal with finance adapt to various fintech regulations. Examples: 6clicks, Yoti.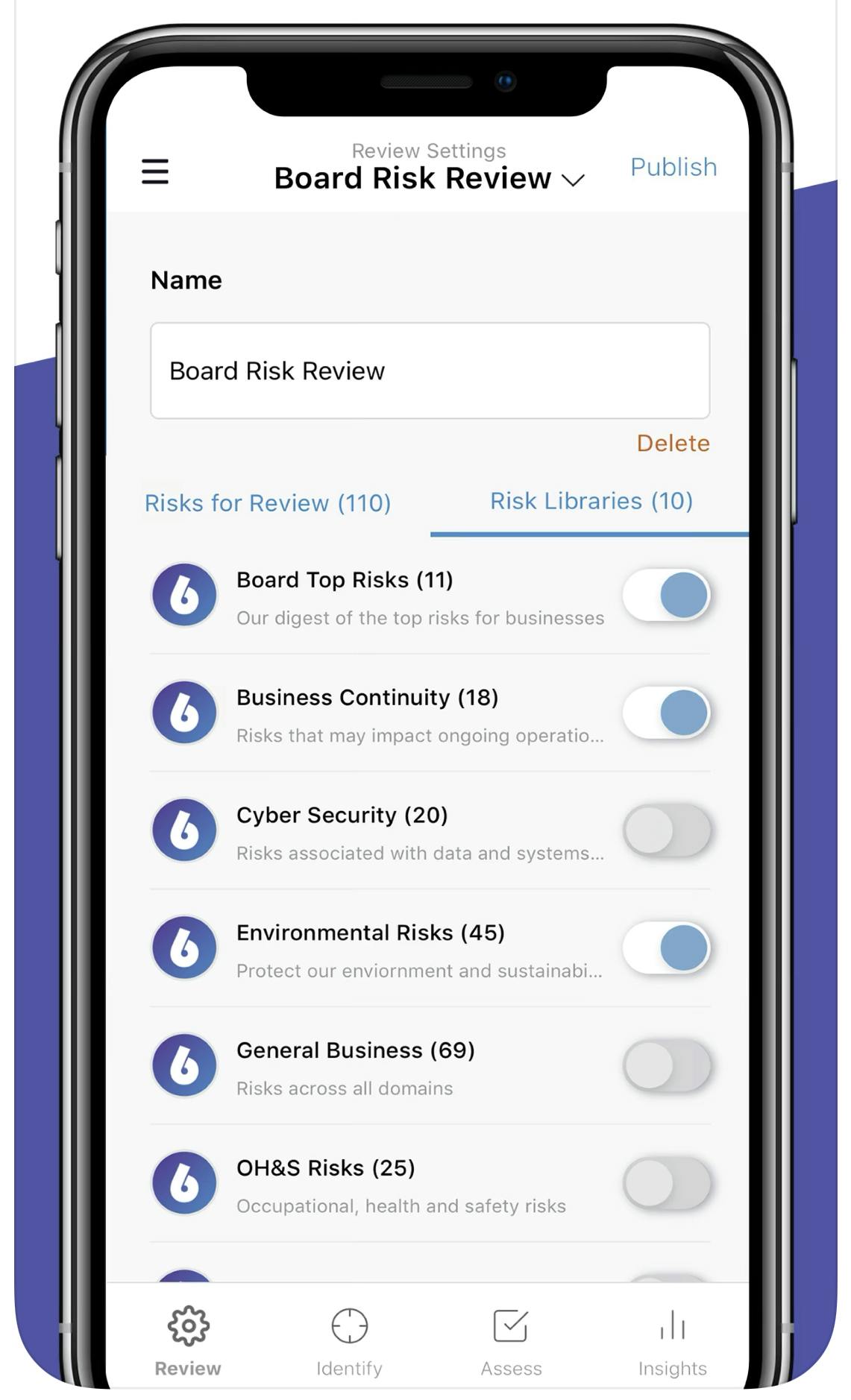 The regtech app 6clicks automates risk assessments and reviews. Source: App Store 
The landscape of solutions is truly diverse: new financial software companies are joining the competition by cooperating with existing institutions and creating new services. There are plenty of standalone applications with a particular functionality in addition to innovative platforms with application programming interfaces (APIs) and modular components others can use. 
To survive in this market, you need to define your fintech application's specific goals, learn your demographic and the features the user base demands, and get to know the existing solutions in your niche. After it's all done and you have a distinct idea of what you want to develop, you'll need a team of seasoned developers to discuss your project's architecture, required integrations, and the scope of work overall. 
At MadAppGang, we've been building solutions in the financial industry for over a decade and know how to develop a fintech app with top-class security measures and seamless UX. Check out the scope of our fintech software development services to learn more about our expertise. 
Fintech solutions gain momentum because they make routine, and often stressful activities easier and more transparent. With younger generations becoming the major driving force behind software innovations, fintechs are increasingly adopting the features of social networks to make financial operations not only more user-friendly but also fun. 
Fintech apps represent a ripe opportunity to change the face of payments and money management for the better.
Boosting financial literacy
Even though it seems counterintuitive, the more digitised and accessible information is, the lower the level of financial literacy. For instance, 2020 data revealed that four out of seven Americans were unable to manage their finances. Fintech solutions targeted at consumer finance can help users better understand some financial concepts and feel more confident about their spendings and savings.
Given that some solutions are specifically designed to help consumers make better choices and understand their money, it's not wishful thinking but reality. The key here is to provide users with simple yet informative messages and guide them through accessible financial operations and their nuances.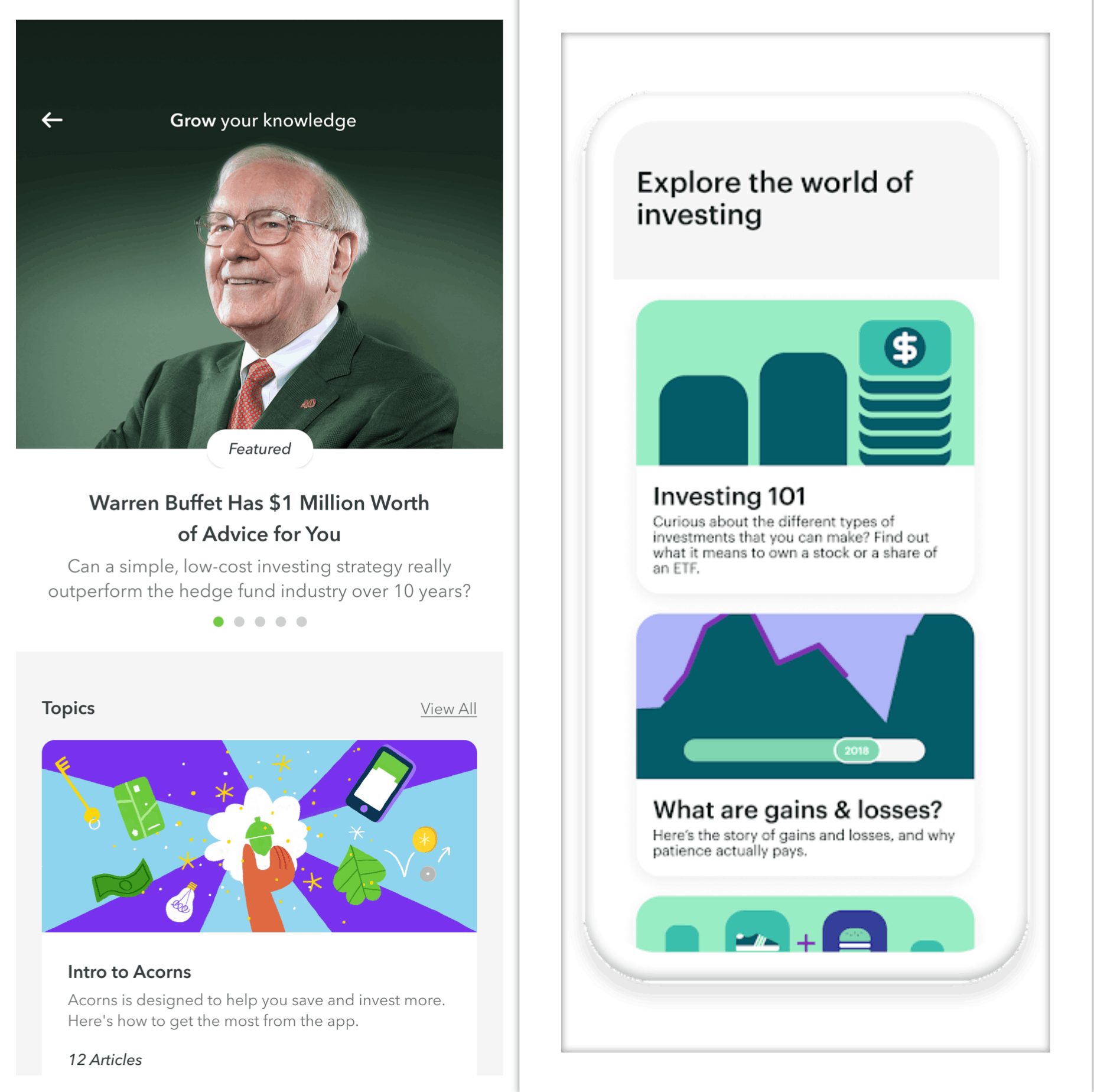 Educational sections in money apps Acorns and Greenlight. Source: Acorns, Greenlight
Making money operations more fun
Financial operations are often thought of as a chore and a bore, so solutions that add an element of fun and interactivity make a real splash. For instance, Venmo's social media-like quality drives enormous engagement levels among Millennial and Gen Z users, Millennials and Gen Z and as a result, it's one of the fastest-growing payment apps. 
Automating routine operations
Automation is the first benefit that comes to mind in the context of any consumer app. The way we handle our finances has changed dramatically over the years, becoming easier and faster thanks to automation. Users can pay bills, send money, or buy stocks in a matter of a few taps. Users aren't overburdened and they feel in control when every action is synced across digital tools and included in automatically generated analytical graphs. Automation solutions in fintech are experiencing a surge of investments, so you're likely to strike gold when efficiently automating processes in a highly regulated area.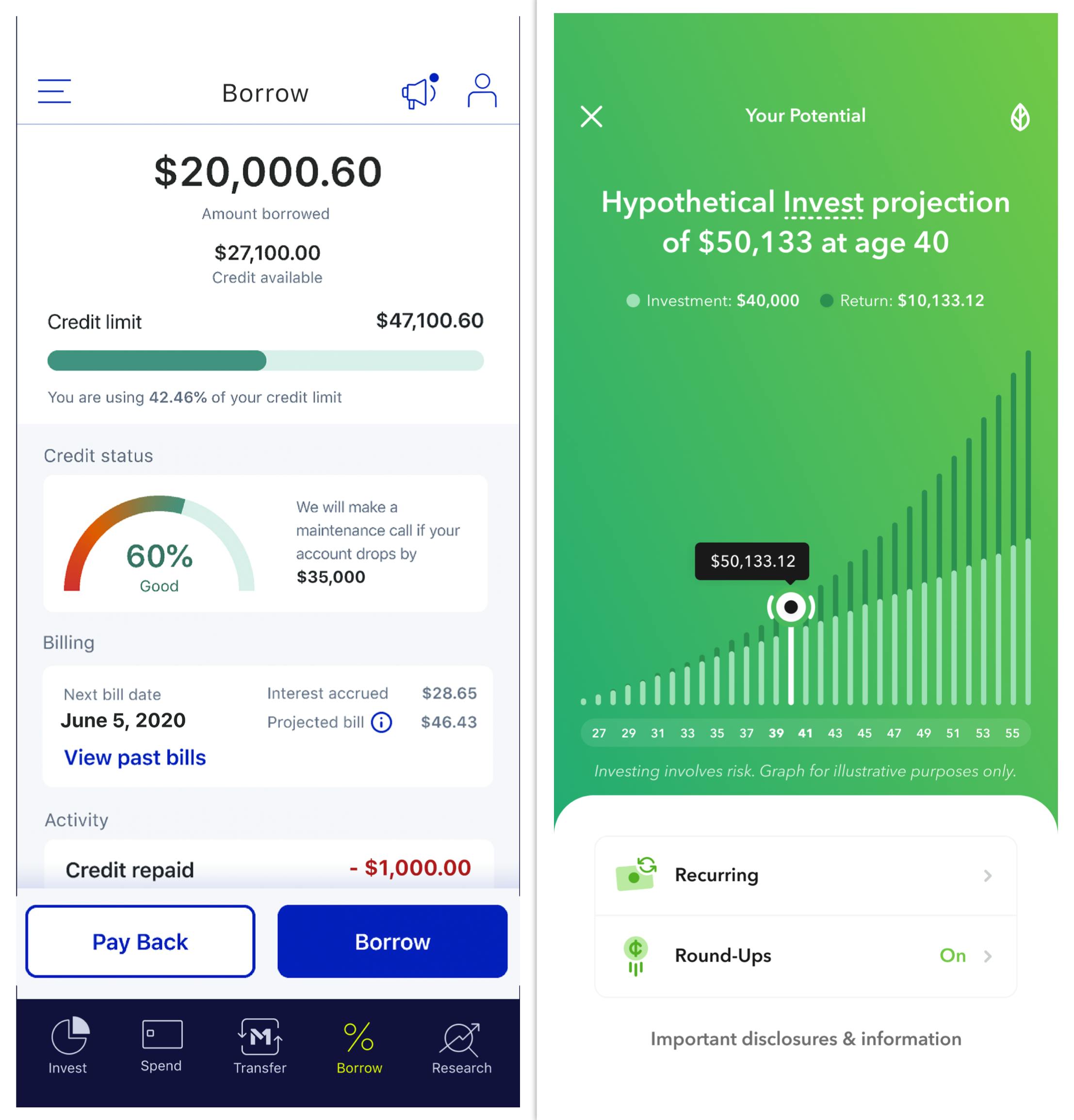 Automatically generated credit statistics in the M1 app and investment projection in the Acorns app. Sources: M1 Finance, Acorns.
Setting a technological trend
The forefront technologies at use in fintech focus areas aren't limited to automation. Industry leaders and new startups are experimenting with machine learning, computer vision, virtual assistance, voice recognition, and other innovations. Adoption of these technologies in fintech warrants a separate discussion, but in a nutshell, it's worth expanding the market with an AI-powered solution.
Unifying financial processes
Thanks to global open banking initiatives, financial data can be used across multiple authorised solutions. The fintech space is growing, in part because of these initiatives; according to Juniper Research, the number of open banking users will exceed 4 billion by 2026. Europe is leading the sector with government-supported programs for incorporating open banking frameworks and hundreds of authorised providers with access to open financial data. Even though it's not yet widespread in the US, major American providers do have open banking strategies and a lot of apps targeted at American consumers collect data from open APIs. 
Open banking standards and APIs at use lead to the unification of financial information, which, in turn, allows for easier connectivity between different solutions and an overall more efficient fintech infrastructure.
What to consider when building a fintech app
As with any other app, you'll have to shape your idea in cooperation with developers who have relevant expertise, do research on the niche and target users, then design, build, and test the end product. But with fintech, you also need to take some extra steps, let's discover which ones and why.
Straighten out regulatory frameworks
When you know the exact type of solution you're going to build, and all the parties involved in it — consumers, banks, insurers, payment gateways — it's time to figure out which regulations apply. You need to clearly understand all legal requirements associated with the financial data your app will use. Besides data specifics, fintech regulations depend on the country, so you also have to learn about the relevant laws in each of the locations you're targeting.
Think security measures through
When dealing with sensitive data, any error comes at a tremendous price. In a fintech app, you have to ensure information security with the latest authentication technologies, up-to-date encryption, and any other measures relevant to the product. The test-driven approach to development (TDD), which usually makes the process longer and more expensive, makes sense in the context of fintech. With TDD, tests are written prior to development iterations, which reduces the number of defects and allows for a greater fintech app security level.
Design positive messaging
Fintech is an area that impacts and is directly connected to people's well-being, so it's crucial to maintain clear and positive messaging. Industry experts claim that driving positive behaviour is crucial to their success: Acorns's CEO place a high value on badges and notifications that motivate users to "make good choices" and Moneyhub's marketing head says that a fintech app should have a message that "everyone can understand and share."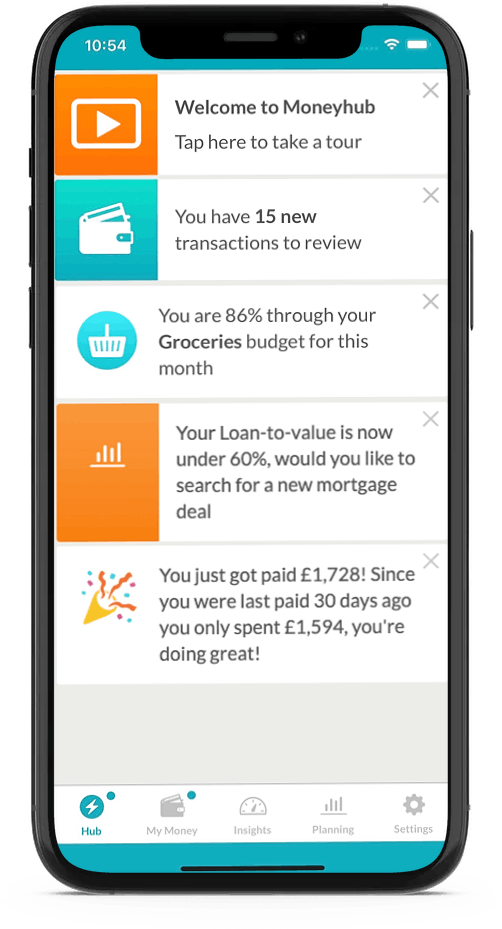 Notifications in the Moneyhub app. Source: Moneyhub
The important thing for all these steps is to find a reliable development provider with fintech expertise and can guide you through the nuts and bolts of the particular technologies and features that your product might need.  
For more details on the development goes, check our post on the software development process and the principles MadAppGang believes in.
The major features of fintech apps
The set of features will largely depend on the type of app you want to build, but some are universal to the fintech industry:
Login. It should be bullet-proof secure and future-proofed by incorporating several types of biometric authentication.
Account details. Whether the app is connected to a financial institution or not, it has to allow users to sync their accounts, as well as set permissions and limits. If you're planning a banking app, you can find a detailed description of banking app major features in our post. 
Payments and transfers. This functionality lies at the core of most fintech solutions and should be easy to access and use. It also makes sense to design a convenient transaction history, receipt sending options, and flexible recipient search. If you have an idea for a peer-to-peer payment app specifically, learn more about payment app features in our post. 
Analytical dashboards. When financial data is not just collected but also automatically analysed, it gives users valuable insights into their finances, be it personal budgeting or enterprise expense planning. Analytics are key to investment and trading apps as well, giving users tangible information about the current state of the market and possible risks and profits. 
Support and assistance. Most fintech apps feature either an option to contact support or a virtual assistant (chatbot or voice-enabled helper) that provides users with answers or directs them to the relevant information. 
Notifications. Any app should provide users with factual messages about their activity, as well as motivational incentives to perform certain actions.
The cost of fintech mobile app development
Mobile app development cost is defined by the set of features and the rates of the engineers working on a project. The more complex the product — the more features it has, the more unique they are, the more innovative the technologies involved — the more expensive the development will be. 
In turn, the budget needed for each feature will depend on the cost of hiring app developers, designers, and testers. Their rates vary based on location, type of employment, and years of experience. For instance, you have the choice to go with generally cheaper individual freelancers or hire a dedicated team that will be more expensive, but also more organised and committed as a whole. 
Some sources claim simple fintech solutions might cost somewhere from $30,000 to 40,000, but from our experience, financial apps involve a lot of extra efforts on security, regulatory compliance, performance stability, and integrations, which brings building a feature-rich application to an estimate of $500,000 and higher.
Cost-efficient alternatives
As an alternative to traditional development, there are opportunities to create a white-label app, which means customising a predefined set of designs and features. Several industry players offer fintech-specific white label apps, for example, Hydrogen Wealth allows building web or mobile robo-advisors and configuring your data in their templates. This option can pay off if you want to replicate functionality that has proven successful for other digital finance companies. But if you're looking to design a unique and easily scalable app, you should choose traditional fintech mobile app development over white label. 
Another beneficial alternative is low-code and no-code tools that can help you economise and significantly speed up the process. However, they also take a team of seasoned fintech app developers to apply everything correctly and according to your requirements.
The fintech sector holds many opportunities to reach a wide audience of users who are searching for smarter ways to handle money. The demand for solutions is higher than ever, so if you have an app idea, don't miss the chance to market it. To build a fintech app that's successful with users, you need to identify the particular problem it will solve, and to make it robust, you need to find an expert development team with industry knowledge. 
At MadAppGang, we follow the principles of Agile and iterative development, and we always put our clients' requirements first. We've built large-scale fintech solutions with priorities set on security and scalability, and we know what it takes to create a performant financial app. Reach out to us, and we'll discuss your fintech idea, required technologies, and the general scope of the work.