Full Guide To Restaurant Booking Apps
The restaurant industry will probably never switch to a completely online existence but it does need to digitize its services.
There are more than a million restaurants in the US with an annual revenue of $800 billion. Australian restaurant industry makes around $50 billion in revenue a year. Around half of the citizens eat out at least once a week, creating massive customer traffic. But restaurant businesses don't last long if they're not upgraded – the industry is experiencing a demand to push the envelope of traditional ways to serve food.
Modern customers need more than just a place to enjoy a meal. They need to have a choice based on information about location, opening times, menu options, ingredients, promotions. They need tools to define where the nearest place is, if it has the options they need, what other people say about it, if it offers delivery and mobile payments, and so on.
What they need is a mobile app (or several apps) to get informed quickly and perform every action with maximum ease and convenience. Booking a table, ordering a meal, and paying should be accessible within several clicks.
While there are already thousands of restaurant apps, there are problems remaining in the restaurant industry. Many of them can be solved with a mobile application.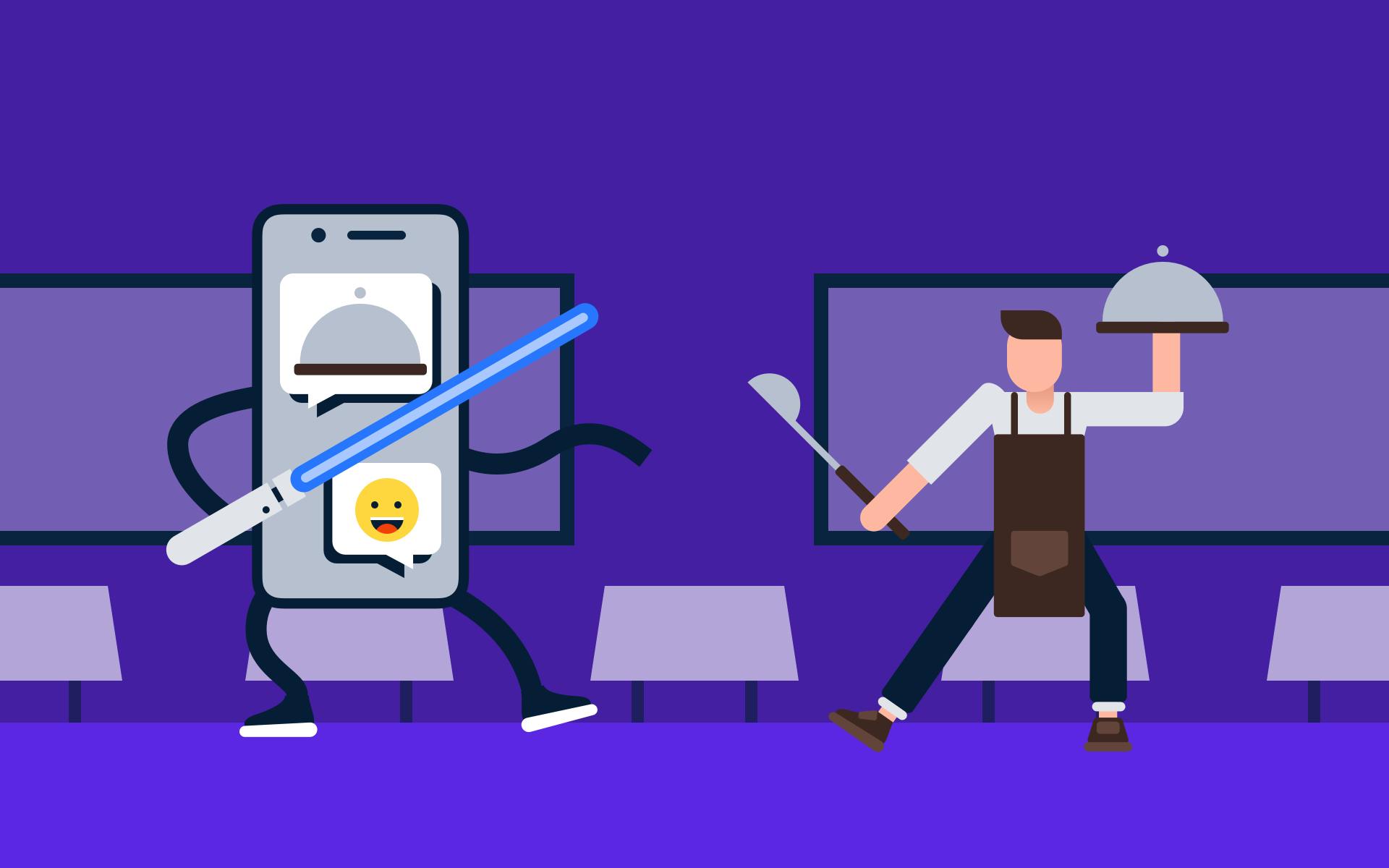 At MadAppGang, we worked on an order processing project called Tayble which offers Australians a universal system for ordering a dish in any local restaurant. In the course of one year, we developed the application for 500 venues in Sydney. Our solution was based on a powerful backend for processing large amounts of data and a custom POS system for adding lots of different restaurants.
While working on this project, we explored the market and faced numerous challenges that gave us insights into the many nuances of restaurant app development. If you want to create your own restaurant app, learn which aspects to concentrate on and how to develop your idea according to market demand.
The restaurant industry has been moving towards digitalization and automation for decades, and now, it's mobile applications that set all the key trends.

Who Started Restaurant Mobile App Development?
The first step that reshaped the restaurant industry was the installation of POS systems. The very first one, introduced in the mid-1970s, was basically just a cash register. In the 1990s, Microsoft created the first POS software, and the idea of transaction automation gained popularity rapidly. Modern systems allow restaurants to enhance the level of service. POS systems are now practically a must and it's rare to find a place without one.
Mobile payments were pushed by the big hotel and restaurant brands including Hilton and Starbucks. The latter brand is known for record-breaking statistics: around 21 per cent of all orders are completed via its mobile app.
Taco Bell became the first Quick Service Restaurant (QSR) to create a mobile app for restaurant ordering. Since it was launched in 2014, it has been among the most popular applications in the field. Apart from the branded app itself, Taco Bell has a solid digital marketing strategy that pushes its success forward. For one, it reached the Snapchat record in 2016 when its Cinco de Mayo Snapchat lens (that make you look like a walking taco) was viewed 224 million times in one day.
In the early twenty-tens, restaurant delivery apps (Postmates was launched in 2011 and UberEats in 2014) started a new trend. During recent years, the segment of customers engaging in online ordering has been growing 300% faster than the dine-in segment. Google Data from 2016 to 2017 shows that searches for "delivery" and "pick up" apps have grown over 205 per cent.
We expect restaurant apps to grow in number and acceptance but there's also a growing trend to implement technologies such as AR and VR. Startups working on AR menus are gaining momentum. People enjoy it when regular things are made fun and more dynamic. For example, an application for Orange Leaf Frozen Yogurt with AR colouring pages engaged hundreds of fans and raised thousands for charity. Such groundbreaking technologies give businesses the chance to provide a true-to-life presentation of food, eliminating the customer's disappointment with expectations that weren't met.
Types of Restaurant Mobile Applications
There are many types of restaurant app that satisfy customer needs when it comes to planning their restaurant visit, ordering food, getting informed, or receiving promotions on the go.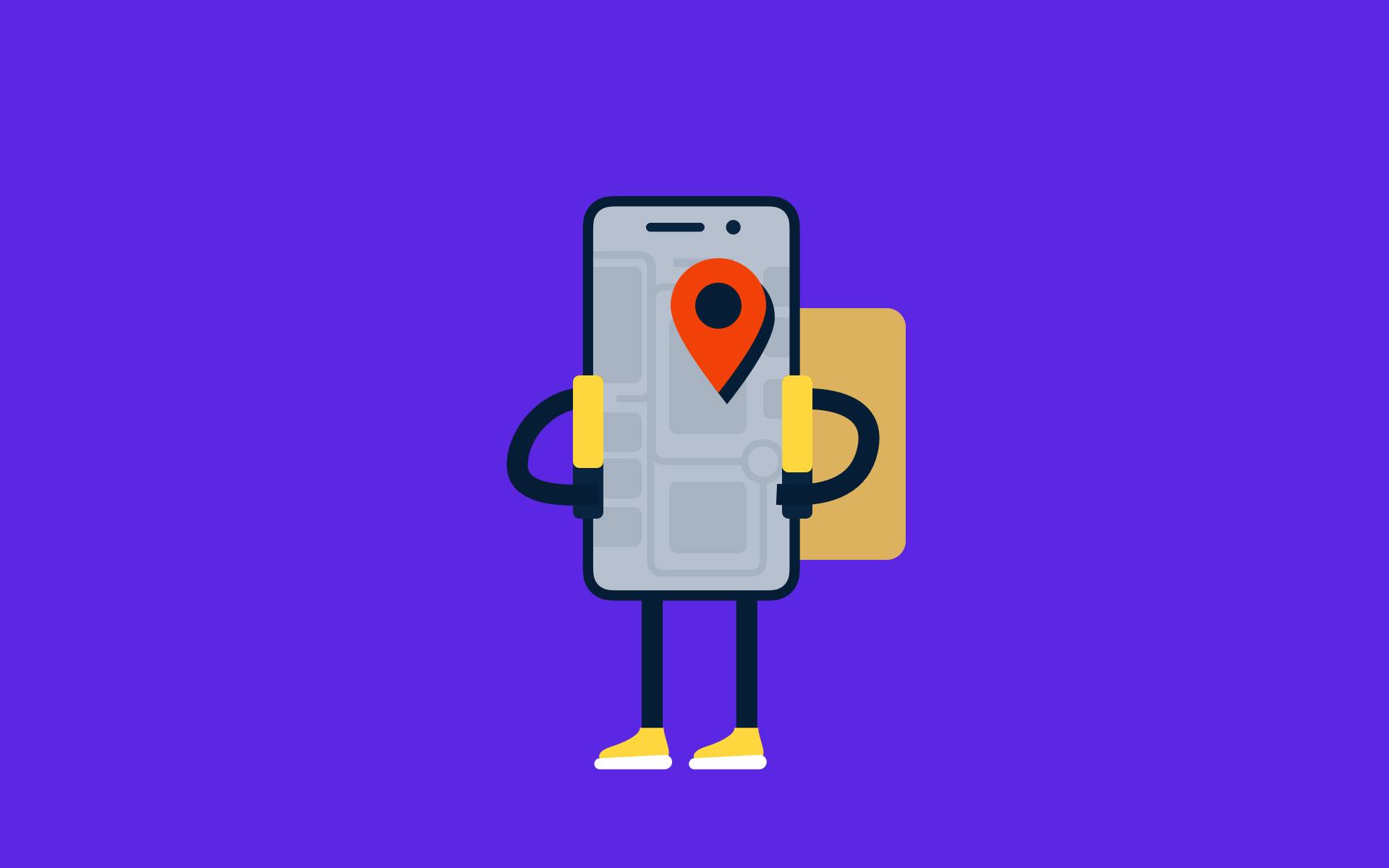 Local Restaurant Discovery Apps
One of the basic restaurant mobile app features allows customers to discover a place based on geolocation and opening times. Usually, apps combine this opportunity with a system of reviews and special picks. Famous restaurant finder apps that recommend restaurants based on geolocation (Yelp, Foursquare, Zomato, LocalEats) don't do just that though, they also contain reviews, have booking options, offer delivery, and other functions.
Reviews
Reviews left on the internet, be it Google, Facebook, or TripAdvisor, are a key part of the decision process for customers: 85 per cent say they research business before visiting or purchasing, and 74 per cent claim that positive reviews build trust. Online reviews influencing the image of businesses is named among the current top restaurant trends.
There is an array of restaurant review apps. They are especially helpful to those who travel often. In fact, 83 per cent of people use their smartphones to find a venue when travelling. Applications like Foursquare enhance the experience of millions of international users. It allows customers to look for a place nearby, filtering the results by categories, creating lists, saving favourites, and so on. There are also themed apps that focus on a specific diet, for instance, HappyCow is a traveller's guide to vegan and vegetarian food all over the world.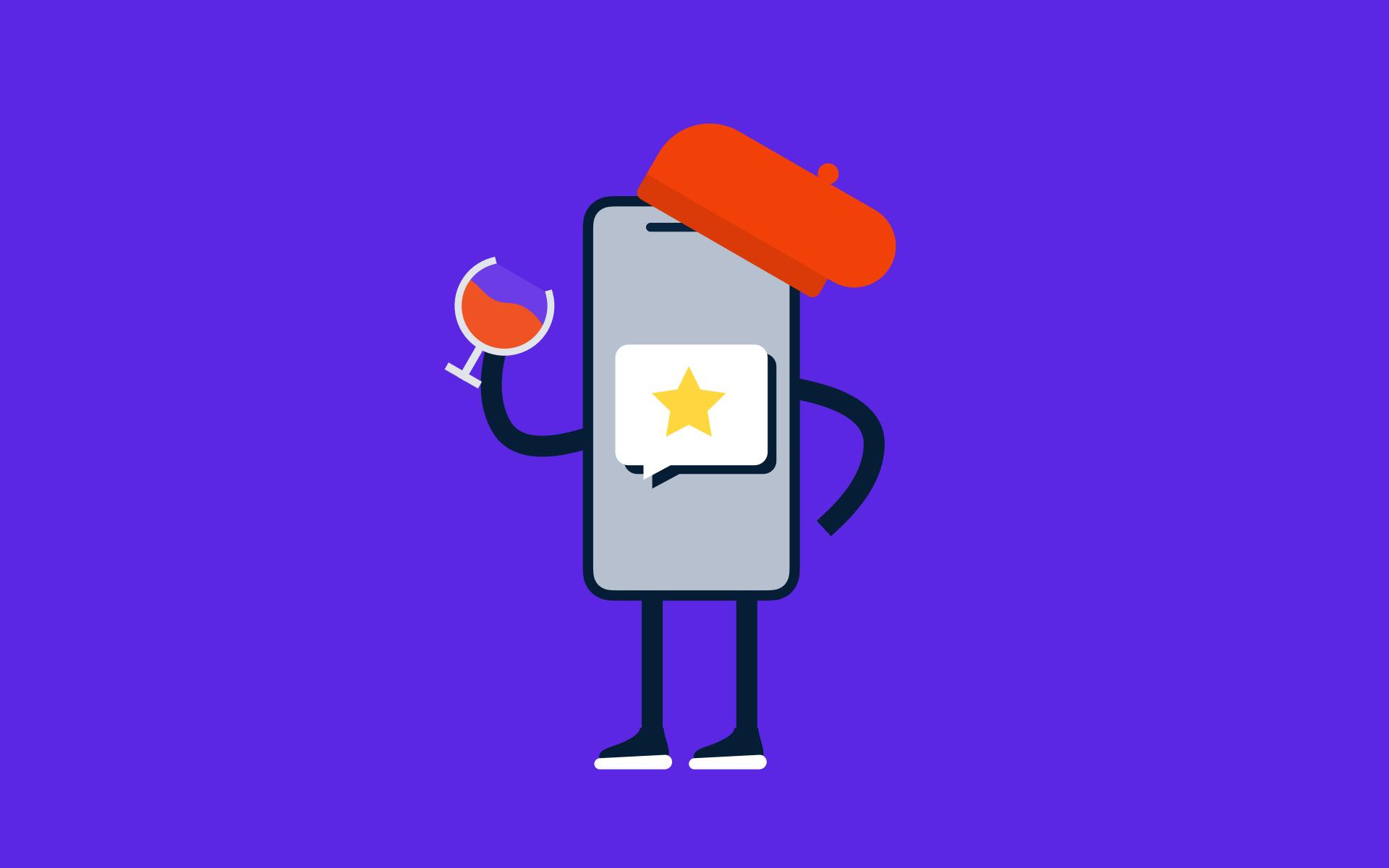 Booking
Waiting in line for a seat at a restaurant may now become a part of history. People value their time and schedules more than ever before so functional restaurant booking system apps become a necessity.
There are several examples of successful order processing apps: OpenTable covers 48,000 venues in the US; Fork, 30,000 in Europe; Bookatable, 1,000 in the UK. Our own app, Tayble, worked well for the Australian market. In one year it processed up to 500,000 orders in 500 Sydney venues.
Digital Menus
The least any restaurant can do is provide a digital version of its menu. But there's probably no sense in making just a restaurant menu app without any other features these days. Menu mapping with machine learning implementation and AR menus are trends that will become the standard in the future.
While working on Tayble, we built a menu recognition system to avoid manual entries and the errors that come with them. The industry needs automation for as many functions as possible, and such self-learning systems contribute a lot to that.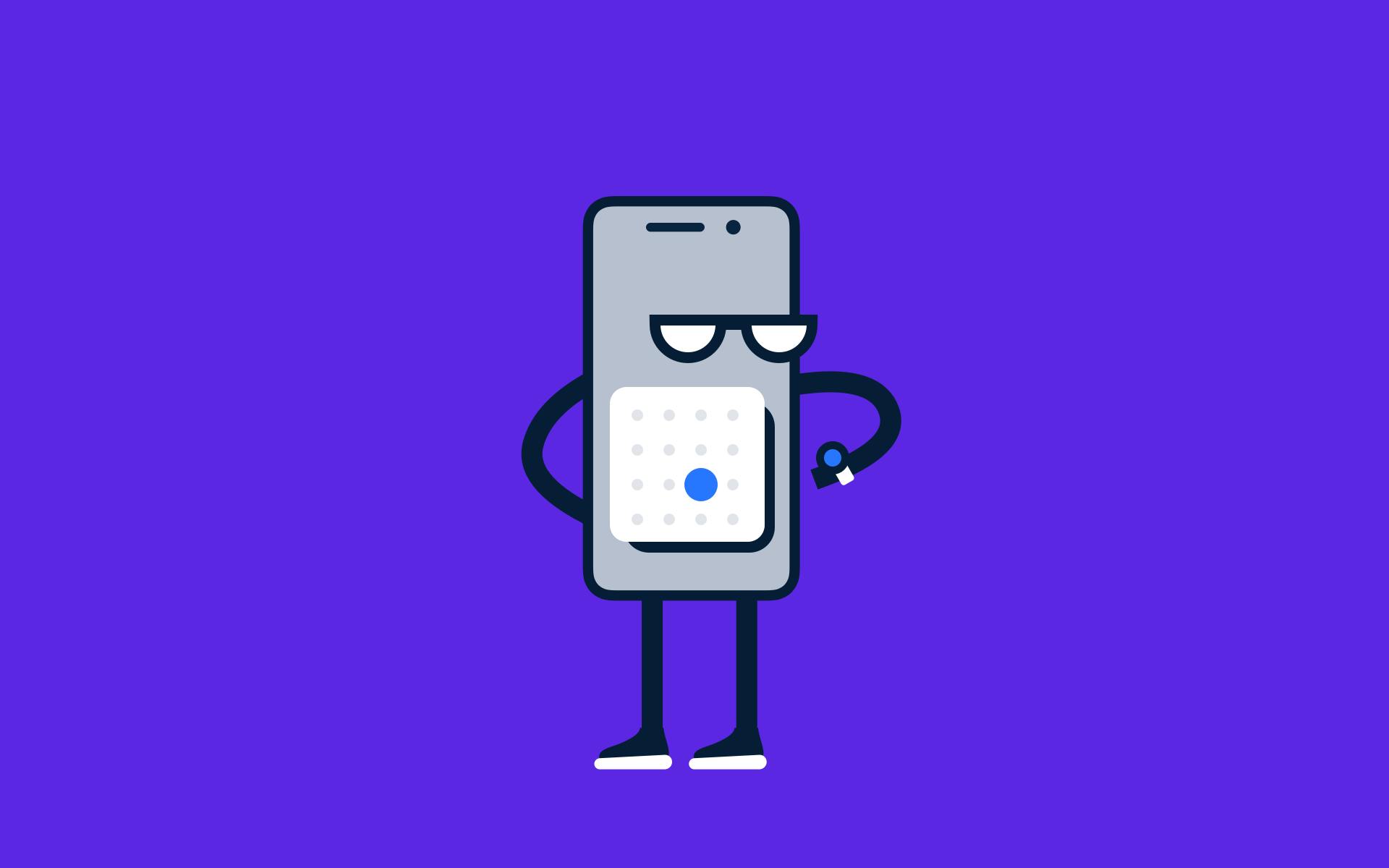 Food Delivery
24 per cent of smartphone owners regularly use food delivery apps, preferring the ones with better restaurant options. Branded programs are still more popular, but third-party apps have expanded quite quickly, becoming the new market norm.
Since branded apps work with a certain number of meals only, they have a broader array of tools available to market the service. For instance, the Domino's application, which has been downloaded by millions, was innovative in introducing a voice interface and a Twitter ordering system. The easier it is to perform an order, the happier a customer will be.
Catering to offices is another trend that might help brands gain exposure: 63 per cent of employees visited new places they initially discovered through office meals.
Statistics reveal that more than 25 per cent of customers have at least one restaurant app on their phone. But most users prefer universal applications over restaurant specific programs. Universal apps usually offer several restaurant options, are linked to social media, and can promise discounts and other perks.
In some cases, third-party delivery apps make it harder for venues to function: restaurant administrators need to use several devices to synchronize the work of the delivery service and the kitchen. While third-party applications may help places serve more people, they may, on the other hand, complicate the preparation process and require payment for their service.
While big delivery apps meet customer need when it comes to getting the food they want, restaurant-specific programs should offer more than that, or suggest something completely different to set them apart.
However, not every venue will benefit from having its own app. Small restaurants will probably just lose more on development. But there are plenty of ideas to proceed from – it's not only about mobile apps for restaurant owners, after all.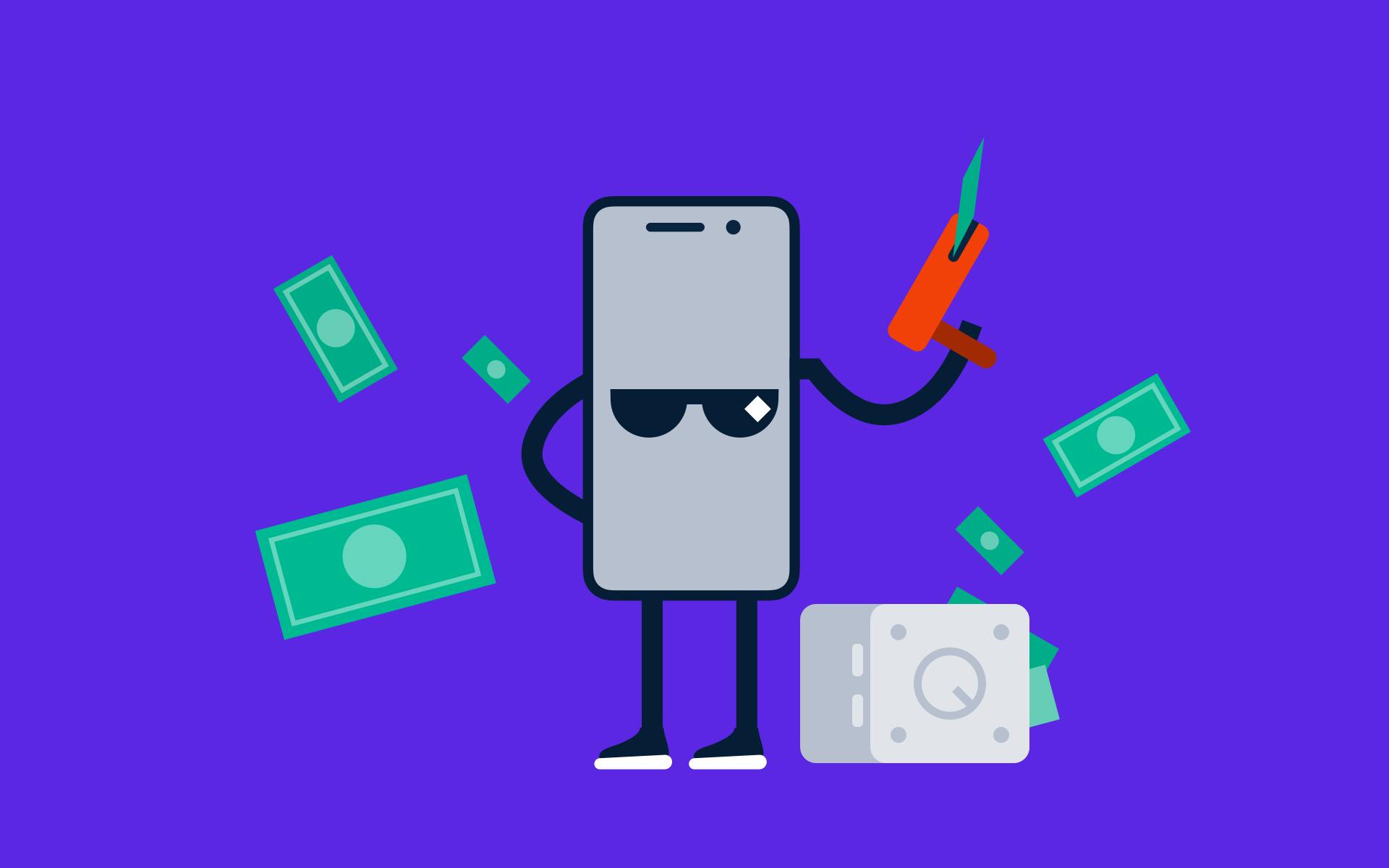 Loyalty Programs
Half of all the smartphone owners use branded applications that may bring them some perks such as points for each order which they can then exchange for free meals.
People want to receive tips to get free food, and loyal customers want to be recognised and get special treatment. The Groupon scheme is no longer working because, surprisingly, many deals resulted in lower revenues and ratings. This shows that restaurants should focus on customer retention rather than on attracting lots of new customers.
Liven is a popular Australian app that features hundreds of venues. It offers up to 25 per cent of cash back to spend on eating out or donate to charities. Responding to current trends in technology, they replaced the point-based system with their digital currency. In Tayble, we introduced TaybleCash that works in a similar way: restaurants estimate their cash back percentage and customers can use what they've earned any time they visit a partner venue.
A loyalty program app for restaurants is a great way to offer people the highly personalised offers they want. These applications collect past order history, making it even easier to give customers the perfect reward.
Problematic Issues to Consider
Surprisingly, many major brands don't have any apps, and some that do have apps have failed to attract users. The study from 2016 showed that one-third of the big chains in the US didn't have native apps, while many existing apps had poor reviews. No matter how obvious the need for in-app experience is, restaurants still struggle to make high-performing solutions which connect them with customers.
With any kind of mobile application, it's necessary to include short-term testing in the process. No app is immune to bugs, and the earlier you identify them, the easier it will be to solve them.
Apps can fail just because of an inappropriate font or another minute detail in the restaurant app design. In this example, an app used the same icons (stars) for two separate actions, namely liking a restaurant and rating it. While it seemed logical at first, it proved to be confusing in practice. There are many details to take care of, which is why you need to find restaurant app developers who have experience with the challenges present in the field.
Regardless of the benefits of mobile apps for restaurants, few become resounding successes. You need to think about what problem you want to solve with the application. Do you want to enhance your off-premise presence, or is your goal to establish brand loyalty? You should think of unique offerings that will move your brand forward.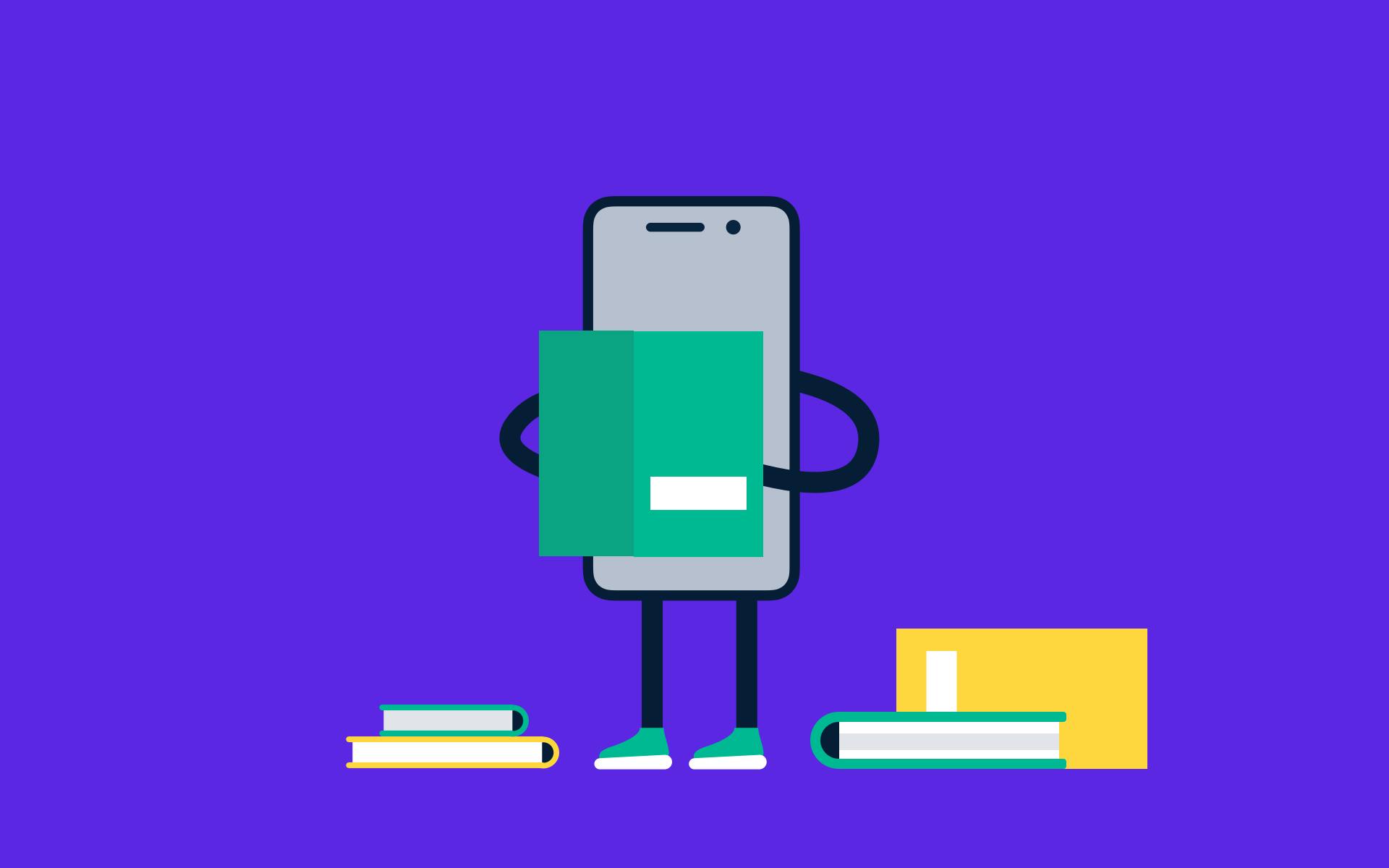 Why the World Needs More Restaurant Apps
Why the World Needs More Restaurant Apps
Even though there are many apps out there, a lot are ill-equipped and there are still plenty of blind spots in the industry that are waiting for innovative solutions.
In the long run, every restaurant should be included in some kind of automated booking and delivery service. Waiting for a table to become available or ordering food on the phone is not a situation modern people want to experience.
There are a lot of issues that come with integrating different restaurants into one system. Some of those restaurants might not have any automation, no digital menus, no POS, no food ordering form on their website, and so on. New solutions have to be universal and scalable first of all. They also need to be based on technology that is up to date.
How did we counter these issues when we built Tayble, an app with a massive impact in Sydney? Get in touch with us to find out. Want to build your own restaurant app? We can help with that too. Start off by reading these crucial steps to building a successful app or reach out to us to discuss your ideas in detail.
16 April 2019