How to Develop a Telehealth App
A 2018 RockHealth survey showed that 75 per cent of adult consumers in the US have adopted telemedicine channels. The usage of live video chats in remote care has significantly increased from 7 to 34 per cent in just three years. Furthermore, telemedicine tools are at the fore of the new patient-centric care model practised and promoted by the so-called next-generation payers and providers − insurers and healthcare institutions with technology-driven strategies and innovative approaches to health.
Doctor On Demand is among the most popular telehealth apps in the US. Users can book virtual appointments with certified physicians and psychologists and then rate their experience. Chronic care, urgent care, behavioural health, and preventive health are the four categories the app encompasses. MDLIVE, PlushCare, Teladoc are similar applications with an already strong user base.
There are other, more specific, areas of telemedicine app development. For instance, mental health apps with video chat function, such as TalkSpace are becoming quite popular. The Lemonaid app offers virtual consultations, prescriptions, and provides pharmaceutical deliveries.
Telemedicine software solutions remove the hassle of long waiting times and make way for the more affordable and flexible healthcare services patients want. For doctors, telehealth solutions offer more control over their schedules.
How Does Telehealth Work?
Telehealth is two-way, face-to-face communication that allows patients to get specialist care from anywhere and via a device of their choice. This can involve scheduled meetings between patient and provider and provisions for on-demand visits in cases of acute care.
Current phone-based telehealth services are giving way to doctor-on-demand app development with video communication. As American Well's Chief Medical Officer puts it, video is the most robust medium for practising telehealth because it affords physicians the ability to examine physical and behavioural factors.
In the broader context, there are three common types of telemedicine:
Live conferencing refers to real-time video chats which are practised and appreciated by users the most.
Store-and-forward telemedicine refers to health information exchange between patient and provider. For example, a medical specialist sends lab results to a patient or a patient captures a photo for further dermatological analysis.
Remote patient monitoring relates to a set of tools that gather the individual health data needed for treatment. In our post on medical wearables, we reviewed technologies that monitor human health and improve treatment.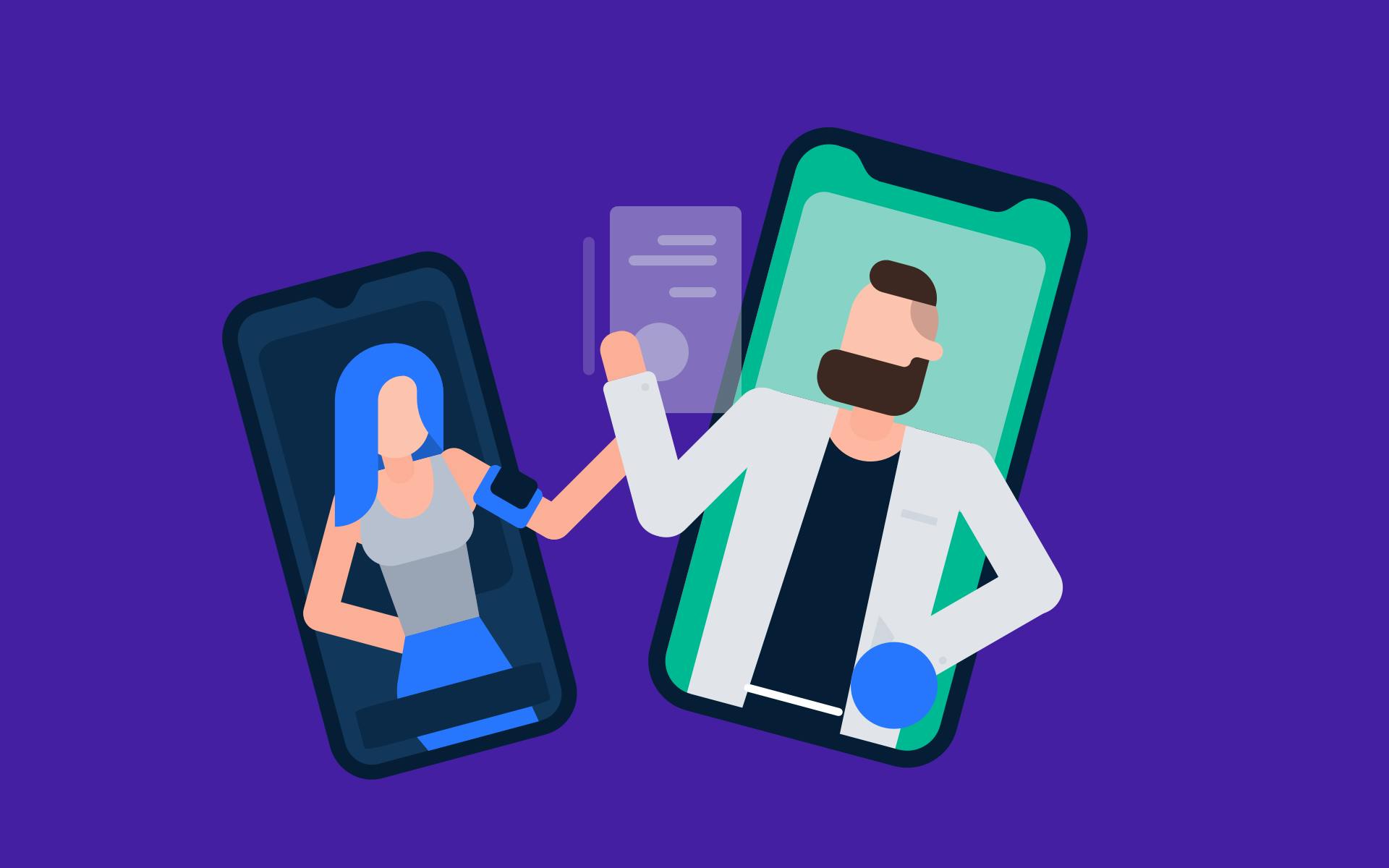 Technologies Used in Telehealth Development
We described many key health app features in our post on the cost of healthcare app development. Now, let's explore which technologies you need to launch a telemedicine application.
Health Data Integration
Accessing patient data and updating it after each virtual visit is crucial for a telemedicine app. You will need to integrate EHR systems and HealthKit or Google Fit into your application.
Electronic health records collect all data related to the patient's condition and therefore give a broader overview which completes the virtual examination. HealthKit or Google Fit are important tools for tracking health essentials and spotting changes in parameters.
Note that if your app deals with medical records from multiple providers, it will take more time and effort to unify the data.
Messaging
Secure messaging is a major component of any telemedicine solution. There can be options for real-time chat, audio calls, and video conferences. Enabling file exchange is also a good idea.
There are providers that offer various APIs to integrate all these communication channels (such as Twilio and its alternatives) but they aren't ideal for healthcare. To make a secure chat function that is compliant with national regulations, opt for solutions with point-to-point encryption, on-device message encryption, two-factor authentication, and other up-to-date security measures. The Signal protocol is currently the most secure for communication and at MadAppGang, we built a messaging platform, Strongbox, based on it.
Voice Assistant
Developing a voice assistant can make the process of searching for and booking with practitioners even easier. Since telehealth is currently poorly adopted by seniors, adding technologies that facilitate the process will increase the potential for remote consultations with the elderly. According to an American Well consumer survey, only one per cent of US adults over 65 are using telehealth but 52 per cent are willing to use it.
AI Algorithms
There are numerous ways to implement artificial intelligence in telemedicine. Many popular applications already use AI and machine learning technologies. These tools offer possible prescription choices based on patient data (Lemonaid); recommend treatment options to cancer patients (InfiniteMD); and help identify potential illnesses (HealthTap).
Respondents in an Accenture survey showed their willingness to use AI-powered services for multiple reasons. More than half of all participants stated they would use such tools to get information after hours, analyse medical records, seek advice on lifestyle habits and illnesses, and diagnose symptoms.
Let's discover the features you will need to implement in your telehealth application. To begin with, you'll have to develop two programs, one for patients and one for doctors. Both versions will have several similar features:
Dashboard. Presents the app's main functions: scheduled appointments, a search section, and personal settings. It's important to make the dashboard user-friendly and design it in such a way that all users could easily navigate the app. Big buttons, non-disturbing colours, and unified fonts are the little elements that speak to the quality of your app.
User identity system. Data should be stored separately from user identity so that in case of leakage, the data cannot be attributed to an individual person. The user identity system must implement the latest security measures such as two-factor authentication, suspicious activity protection (for example, login from another country), and email notifications for log-ins from unknown devices. At MadAppGang we are developing an open-source user identity system called Identifo.
Profile. Both doctors and patients should be able to manage their profiles albeit with different fields to complete. Doctors should detail their education, professional practice experience, and area of competence, while patients should report their condition and basic health parameters. Personal profiles should be secured with two-factor authentication and all sensitive data should be stored according to current security regulations. For more details on medical app security, check out our post on healthcare app compliance.
Calendar. Since telemedicine is primarily a channel promoting faster and more convenient communication, users should have a calendar to see and manage their virtual appointments.
Chat. Provide a seamless video messaging experience with texts, audio calls, and file exchange if needed.
Notifications. Telehealth app users will benefit from reminders about their next calls.
There are some patients-specific functions:
Search. Users should be able to navigate through doctors' profiles and choose a professional based on specialisation, experience, and other parameters.
Reviews. With the opportunity to review each virtual visit, patients boost the in-app community and help others to make the most of their consultation.
Payments. As any telemedicine app offers certain services, consumers should have the ability to use convenient payment methods. Consider integrating the payment gateways that are popular in your target location: PayPal, Braintree, or others.
And some doctor-specific functions:
Access to EHR. Patient medical history is key to diagnosis and decision-making. Doctors and home healthcare clinicians should be granted access to EHR to improve the quality of both communication and treatment.
Prescriptions. If a telemedicine app puts a focus on prescriptions, there should be a specific section for doctors to fill out the forms required. Since there are many pill-reminder applications connecting patients and doctors, you can integrate an existing app into your telehealth program or develop a separate in-app prescription schedule. In Australia, the government has only recently created standards for electronic prescriptions, before that, scripts were handled solely on paper, but now apps have an opportunity to integrate a unified online prescription system.
Depending on the purpose of your app, you can develop additional features, such as:
Wearables integration. A 2018 RockHealth consumer survey showed the use of wearables shifting from tracking-fitness activities towards managing health. The top reason for adopting wearable tech is still connected to physical activity and training, but this percentage is decreasing in line with an increased interest in diagnosis management (20 per cent in 2017 and 30 per cent in 2018). Accordingly, adding patient data gathered with the help of wearables can enhance your telemedicine service.
Delivery. The Lemonaid app we mentioned earlier provides this function, customers can order a delivery of medications right after they receive the prescription. Partnering with pharmacies and delivery services may be a great advantage telemedicine applications offer.
Map. In many cases, virtual visits aren't sufficient for identifying the issue or designing a treatment plan. If a patient receives a recommendation to visit a facility, it would be useful to have a map function with nearby clinics, labs, and pharmacies. To learn more about integrating mapping services, read our post on navigation app development.
Chatbots. To make live video consultations more efficient, patients can provide answers to some questions via an automated assistant. Chatbots are one of the biggest trends in telemedicine software development and digital health analysts claim that chatbots create higher relative value than human personnel in certain cases.


Major Challenges in Telehealth App Development
Like any other part of healthcare app development, telehealth faces numerous regulatory requirements, the need to provide strong credibility, and suffers from a lack of user-friendly solutions, to name just a few issues. The summary of a workshop held by The Health Resources and Service Administration in 2012 identifies the following challenges in telemedicine:
The money factor: Some companies see financial benefits in telehealth and enter the industry without a relevant knowledge base and initial research.
Regulatory frameworks: Regulations vary depending on location and the type of app but in all cases, there are strict rules to follow.
Hype: The more trendy telehealth becomes, the more often unrealistic solutions appear on the market, reducing the real value of what telehealth offers.
Adoption: Despite increasing popularity, adoption rates are still quite low. Both individuals and large providers have reasons to resist telemedicine integration.
Technology: There is a common healthcare problem of utilising technology which is either too old or too new. Experts claim that telehealth isn't about innovative technology but about changing the workflow.
Evidence: Solutions in any healthcare area sometimes lack an evidence base and lose credibility.
We'd like to add a couple more:
Security: Many incidents of medical data leakage, as the result of hackers or intentional disposal, impair the credibility of digital healthcare services.
The issue of trust: Healthcare practitioners and medical institutions are sceptical of new projects, which makes it harder for companies to launch and market telehealth solutions.
All the above-mentioned issues are applicable to the situation in 2019. Complying with regulations, establishing credibility, and making a service that actually solves users' problems are still barriers hindering telehealth's global success. The example of the US shows that the rapid expansion of telemedicine triggers new issues because different states have different legislature regarding the type of telehealth, consent agreements, and payment processes.
There are some initiatives that train medical students to understand the benefits and dangers of telehealth and in the 2017-2018 school year, about 60 per cent of American medical schools included a telemedicine course. Given that this percentage of clinicians clearly understand the capabilities of virtual examinations and are aware of privacy concerns, such initiatives could be widely embraced.
Business Models for Telemedicine Apps
To shape a business model for your app, you need to understand what value (economic and social) it brings users. The common objective behind any telehealth service is reduced costs. However, not every research paper confirms remote visits are less expensive, for example, a 2017 Rand study revealed that annual spending on acute respiratory illness increased by $45 per user. You have to offer maximum transparency when explaining to patients how much they will pay for certain services.
Apart from reduced costs, the value proposition for a telehealth app can include:
Time and convenience: Telemedicine gives both patients and doctors control over their schedules. This is one of the major benefits of telemedicine in developing countries and also for people living in rural areas; they save travel time and can get access to service of higher quality than they have locally.
Engaging experience: The authors of this telemedicine services review analysed the nutritional platform Myca, which provides users not only with video conferencing but also with graphic food journals, continuous feedback, and regular reminders, all of which makes patients more involved.
Anonymity: In cases of mental health issues or when dealing with addictions, the anonymity feature is often prioritised by users.
This is not a complete list and you will no doubt come up with different ideas based on your particular application.
As for business models, telehealth apps generally charge per virtual visit, sometimes even per minute of communication and earn money by taking a percentage of each payment. However, there could be yearly and monthly membership plans for both doctors and patients, which would vary in cost depending on the number of completed consultations.
Doctor on Demand, for example, charges a 25 per cent fee from each paid consultation and offers its service to businesses. Companies can use Doctor on Demand software and pay an established fee per employee per month. MDLIVE also has a per-visit rate ($75) and a software package for businesses. Teladoc utilises another pricing model and charges subscription fees to insurers ($0.45 per member per month) and per-visit fees for patients ($45). Many similar apps offer different prices for the first visit and subsequent visits, for instance, $99 and $69 respectively in PlushCare.
There are interesting cases showing how companies can increase their value with the help of patient-generated data. The Australian remote monitoring tool ResMed, which analyses sleep patterns, offered paid subscriptions in return for users' gathered data. Based on these subscriptions and the sleep reports generated, the company collected lots of valuable patient information.
Telemedicine applications can also provide a paid option whereby featured healthcare listings are highlighted and thus more likely to attract patients. Or, they can partner with relevant services for in-app advertising. After all, every segment of the industry can be a source of revenue for doctor-on-demand apps including patients, providers, insurers, and enterprises.
If you're ready to start your telehealth app development, feel free to contact us. The MadAppGang team has worked on several respected health-related applications and can guide you through both the healthcare app market and the development process.
10 December 2019