SaaS App Development: Your Guide to Building a Top SaaS Application
Software as a service (aka SaaS) is a way of providing software and technological solutions to clients, and it's swiftly replacing traditional software models thanks to its many benefits. At the end of 2019, SaaS held a 12 per cent market share of the total software industry, and its influence continues to increase. In fact, the sector's value is expected to reach $623 billion by 2023 courtesy of an 18 per cent annual growth rate.
It's broadly recognised that cloud-based methods of managing and delivering technologies to customers are the future of the software industry, and many companies, from startups to heavy hitters such as Google and Microsoft, incorporate SaaS into their business strategies.
If you're reading this, there's a good chance you're interested in building your own SaaS application. As we've seen, the market is still expanding and there's plenty of room for newcomers, but competition is stiff so it's important to understand what goes into making a  viable and profitable SaaS product.
To get you started, here we cover SaaS application development essentials such as defining your project's requirements, choosing pricing models and a technology stack, and hiring developers to build an MVP. Additionally, we explore the market and look at the hottest SaaS trends.
Let's get started by reviewing the advantages of SaaS.
Despite the growing popularity of SaaS, it seems not everyone is acquainted with the technology. Questions such as "what is a SaaS application" and "what are SaaS-based products" keep arising. But in fact, most of us use SaaS solutions daily, whether we know it or not. 
Microsoft Office 365, Dropbox, Salesforce, Slack, Adobe, and other well-known services are widely used SaaS solutions that help us keep our work processes running smoothly and efficiently. The distinct feature of on-demand software is that it isn't installed on physical hardware, instead relying entirely on cloud computing to deliver the software product to customers. 
Accessible from any device in any part of the world, SaaS customers can just download a service's dedicated app or visit a website and start working, it's simple and easy. This increased accessibility is a solid advantage, but it's not the only reason to switch to SaaS technologies. Here are a few more benefits of SaaS.
Quick upgrades
Technologies constantly evolve, so software upgrades and new versions are released frequently. Before, we had to buy a compact disk with an updated version of the program (Adobe Photoshop, for example) and install that on our computers, but SaaS eliminates that need. Instead, regular and instant updates are available on the company's cloud server and users can download the product's latest version quickly and easily.
Flexible pricing
Each successful business aims for cost optimisation, and the SaaS model is the perfect tool in that regard. Pricing and plan flexibility enables companies or individual customers to choose the most appropriate plan for their needs, selecting what features they want access to and paying accordingly. Take a look below at what Slack, a popular messaging service, offers for its users — many SaaS providers follow this same staggered pricing model.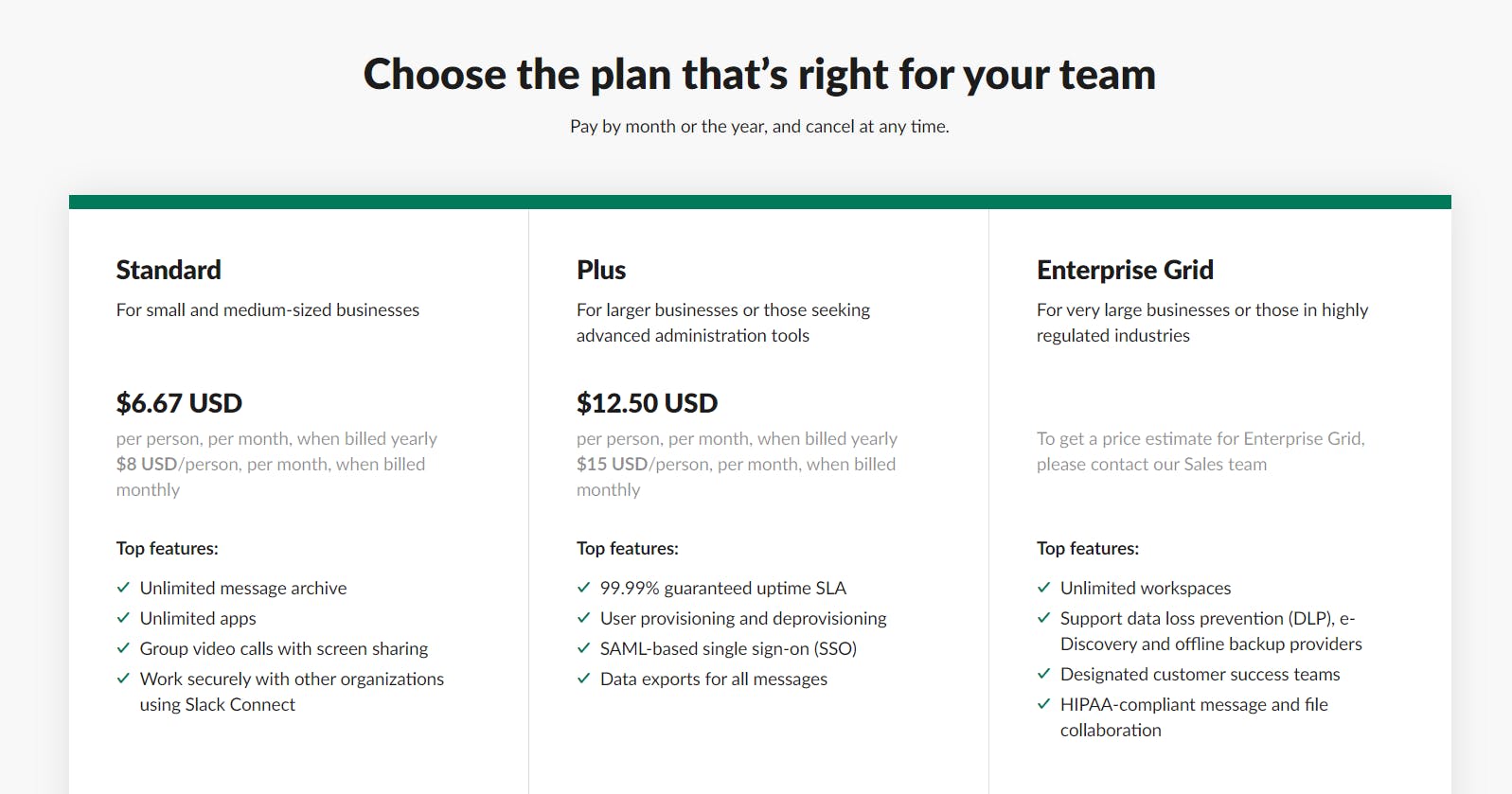 Adjustable scaling
Most SaaS providers allow customers to adjust their plan if their needs change, making it easy to upgrade or downgrade as required. This flexibility may encourage customers to stay with a service longer, meaning the provider ultimately generates more revenue. Besides, SaaS is low cost and it's easy for a SaaS provider to scale their business by launching a digital presence in new markets and reacting quickly to any market changes. 
SaaS's numerous benefits, above and beyond those listed above, more than justify its growing popularity. Now, let's get acquainted with the industry's latest trends and movements, which are key to consider when building a relevant SaaS app. 
The Software as a Solution industry is dynamic and it evolves and integrates with other cutting-edge technologies such as artificial intelligence, machine learning (ML), and centralised analytics. Below are a few significant SaaS trends to watch in 2021 and beyond. 
Artificial intelligence and machine learning
SaaS companies and big players including Amazon, Google, and Microsoft are increasingly integrating AI and ML technologies and releasing AI-based products. AI can bring personalisation to SaaS as it learns from the user's previous interactions and predicts their preferences and digital behaviours. 
Automation is another solid reason to adopt AI as it removes the need for manual input. For example, AI-powered chatbots can assist users with basic questions. Automation benefits SaaS companies from a cost-saving perspective as there's no need to hire people to handle extra work.
Blockchain
Blockchain technology, which is commonly associated with cryptocurrencies, has been around for some time. Creating databases with blocks of encrypted data is a reliable way to store information, and unlike traditional databases, blockchain accumulates ever-growing data in blocks then encrypts it. 
This approach to information storage prevents data theft. Microsoft, for example, views blockchain as a perfect solution for digital identities and is currently developing a blockchain-based ID.
Embedding blockchain technology into SaaS could lead to more trustworthy transactions and greater transparency. 
Mobile optimisation
The world is now mobile-driven and running a business via tablet or smartphone is quite common. Currently, mobile optimisation is a core priority for both well-established SaaS providers and newcomers to the market. Vendors enhance mobile-first designs and functionalities by adding ultra-responsive features such as one-swipe actions or intuitive filtering. 
The above trends are currently driving the industry, so considering them is crucial for any SaaS business' success. 
The SaaS Solution Types On The Market
Cloud-based software is used in most sectors and industries, be it development, engineering, finances, human resources, and many others. Here, we briefly cover the most popular market segments providing state-of-the-art SaaS solutions.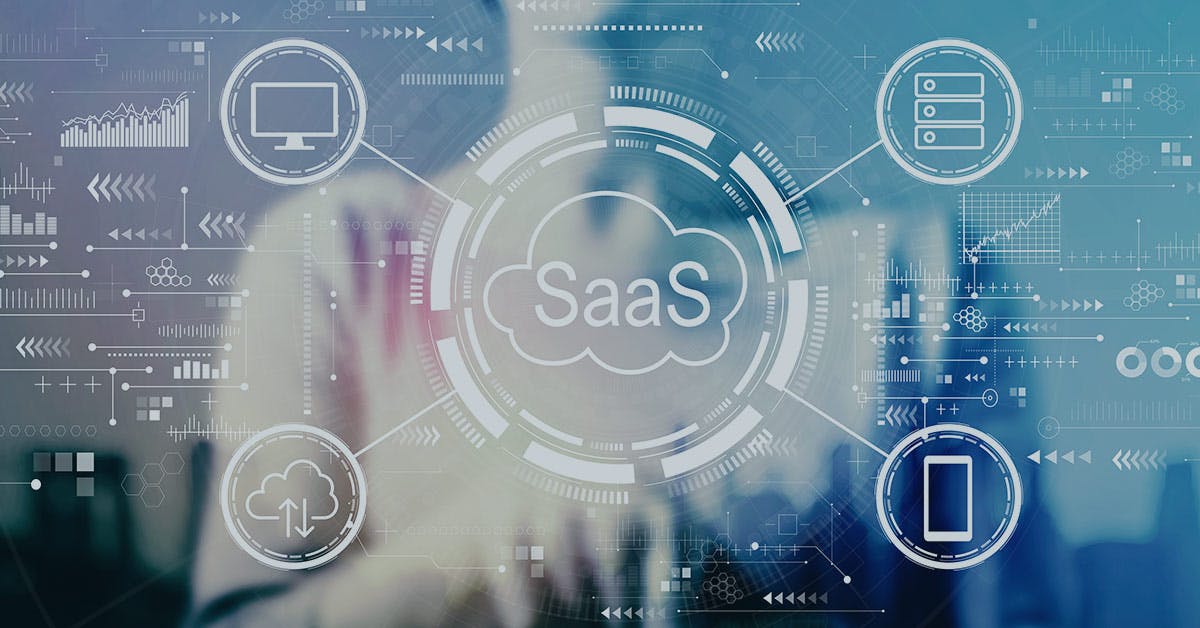 Customer relationship management (CRM) software works on sales and marketing automatisation. This software helps manage customer profiles by collecting queries and complaints and delivering a personalised experience. Hubspot CRM platform provides tools for marketing, sales, content management, and customer service.
eCommerce applications such as Shopify are designed to sell products and goods online. The platform covers everything from product management and payments via integrated payment systems to secure checkout and shipping. Besides, it provides responsive and customisable themes for the user's website layout and content.
Enterprise resource planning (ERP) software helps enterprises manage their business processes. Large enterprises and corporations rely on ERP software to provide a centralised source of accurate and up-to-date information. Technologies such as Oracle also assist with accounting, risk management, supply chain matters, budgeting, and so on.
Vertical (niche) SaaS apps. Unlike their horizontal counterparts, vertical SaaS apps provide industry-specific solutions for when generic solutions won't suffice. Vertical SaaS software may be designed to resolve one specific task or a system of business issues, but it targets a narrow market. Thus, vendors such as Cox Automotive or Veeva that provide automotive and life sciences solutions respectively are well-established players in their markets. 
SaaS-based collaboration software is now popular more than ever thanks to the rise of working from home. Apps such as Slack or Miro allow companies to organise the workflow and maintain effective communication. Many collaboration tools offer messaging, file sharing, and online conferencing functionalities to boost workplace efficiency. These tools are often combined with other apps. For example, a company may rely on Slack for communication while sharing files on Google Drive. 
As you can see, there are SaaS solutions designed almost for every major sector. However, it doesn't mean that the market is saturated,  in fact, there's every chance for newcomers to gain prominence with an innovative idea. All it takes is a smart business strategy and a well-developed SaaS product.   
The SaaS App Development Process
There are two typical options when starting a SaaS project: convert an existing product or build an app from scratch. The first is pretty straightforward, after auditing your current software and coaching your team, you'll choose a cloud provider to host your software — a significant decision, so make sure you conduct thorough research in advance. And finally, the migration itself. It might take time to switch the project's technology or rewrite the backend or frontend. 
Now let's review the process of developing a SaaS app from a scratch.
Market analysis and idea validation
Every project starts with an idea, so when you come up with one, validate it by conducting in-depth market research. Think about the value your product brings to customers, it must significantly meet their needs, so users are willing to pay for it regularly. 
Study the target market segment and research your competitors' experiences (not only the successful ones but also those who failed) to refine your business idea.

Defining SaaS project requirements
Project requirements are usually defined by feature, functionality, and usability, but when it comes to SaaS, two more core requirements should be added. Since SaaS models rely on cloud vendors, there are additional security risks and potential reliability issues. So it's essential to choose a trustworthy cloud provider that safeguards its clients' databases with encryption and regular backups. 
The system architecture is another thing to approach carefully. You can make your SaaS software multi-tenant or single tenant. The former is commonly used by startups with fewer hardware requirements as it's less expensive and allows for easier integrations. The single-tenant model, on the other hand, is more reliable in terms of security and offers broader customization options. Weigh up the pros and cons of each option thoughtfully as this provides the foundation for your business in the long run.
Pricing model: Freemium versus subscription 
Selecting the right pricing strategy is essential when it comes to your return on investment (ROI). The majority of SaaS products follow either the subscription or freemium models.  The first offers a few subscription plans with a set of concrete features and users pay a monthly or yearly fee. Salesforce, Slack, Hubspot, and many other well-known SaaS platforms are subscription-based.
Under the freemium model, users access basic features for free and pay a fee for certain advanced features. Dropbox, for example, offers 2 GB of storage free of charge; just enough to attract users to the platform and get them acquainted with the service. For extended storage space and access to premium features, customers need to make an additional payment.  
Even though subscription-based and freemium are the most common pricing models, they are not the only alternatives: flat rates, per user and/or per feature pricing, and usage-based pricing models are all in use. Sometimes, providers opt for a combination of pricing strategies. 
When choosing a pricing model, consider both your business requirements and the needs of your target audience. Finding the right balance between your product's value and revenue is the key to success. 
Choosing SaaS technology 
Another essential step in the SaaS app development process is choosing a tech stack to build a functional application. SaaS requires client-side (front-end), server-side, and database development, plus there's the back-end and cloud server deployment to manage.  
There's a variety of frameworks and tools to choose from, so base your solution on the project's requirements, features, and design. The developers you work with will select the appropriate tech stack to build your application, so it's extremely important to pay attention to the core technology your developers utilise. 
At MadAppGang, we use cutting-edge tech solutions to deliver fast applications that function well. Our core tech stack includes Swift, Kotlin, Golang, and ReactJS, all top-notch tools in the mobile app development industry.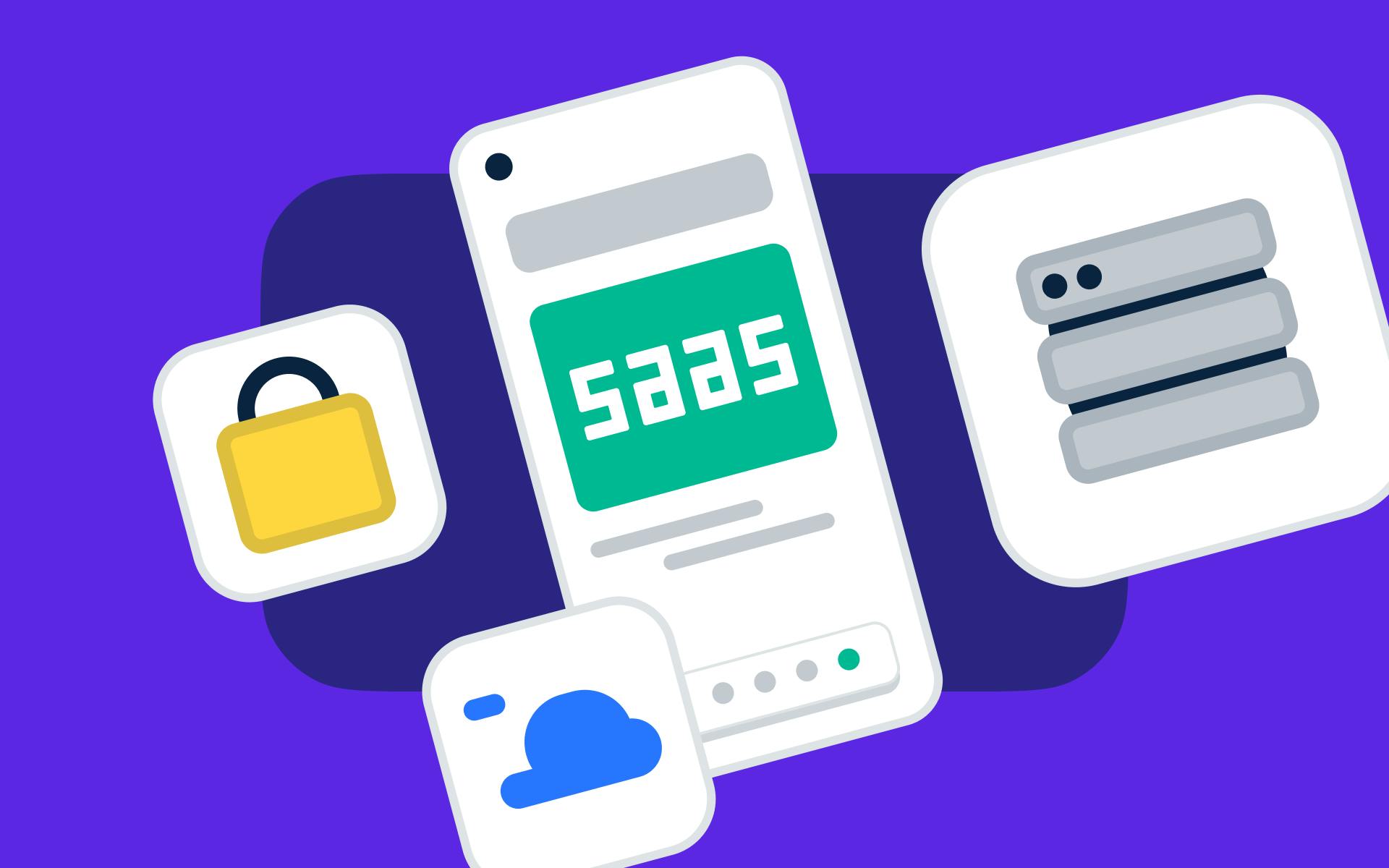 Hiring SaaS app developers to build an MVP
For SaaS application development, you need to decide whether you'll assemble an in-house team or outsource to a dedicated SaaS app development company. Note that building a cloud application in the rapidly growing digital environment requires regular product improvements and maintenance. So pick your team with care. If you're not confident about the hiring process or have a few lingering questions, check out our article on how to hire an app developer.
Most ambitious large-scale projects (Dropbox, for example) started as a minimum viable product (MVP). Building an MVP with just a few core features to validate your idea in the marketplace is a smart strategy. Such an approach allows you to check if the product is desirable to your target audience and receive feedback for further product enhancements. After the initial launch, you can continue gradually adding new features and updates to expand its functionality and grow your audience.  
SaaS is only going to keep gaining prominence, and traditional methods of software delivery will gradually fall away. As such, there's never been a better time to launch a SaaS product. Granted, developing SaaS solutions can be challenging, but with a little nous, a solid business idea, and a good understanding of the gaps in the market, there's every chance of success.
Of course, you'll also want the right team of developers to help bring your idea to fruition. And that's where we come in! Reach out with a description of your vision and we'll get in touch to discuss the details. 
31 March 2021 SaaS app development