Food Delivery App Development: Everything You Need To Know About Building a Food Delivery Platform
Ordering food for delivery to a home or office is not a brand-spanking new concept, it's been around for quite some time, in fact. But not so long ago, we had to call a restaurant to order — often blindly or from a leaflet. Then we waited patiently for the delivery person to find our home address (hopefully without getting lost on the way). 
Digitalisation changed everything though, including our food delivery systems and preferences. People now prioritise convenience and speed, and most prefer to order food online and get it delivered to their doorsteps. 
Little wonder then that food delivery apps, which simplify and expedite the process, are so popular. Users simply search for their favourite food, make an order, and pay in just a few taps. 
The online food delivery market is growing steadily — digital orders and deliveries have grown 300 per cent faster than traditional dine-in sales since 2014. According to Statista, the 'platform-to-consumer' delivery segment is expected to reach US$96.8 million worldwide by 2024. Considering the consequences of COVID-19, this growth will remain steady for the foreseeable future. 
If you're thinking about starting an app-based food delivery business, you're in the right place. Join us as we explore the key aspects of mobile food delivery from current industry trends to the average cost of developing a food delivery application.
But before we dive into details, let's review how COVID-19 impacted the industry and how the food delivery process changed in response to the pandemic.
An Overview Of the Food Delivery Market in 2021
At the beginning of 2020, the biggest food delivery companies weren't thriving; despite rapid industry growth, profits fluctuated. DoorDash, Postmates, and Uber Eats were actively discussing mergers in various combinations, however, none of those talks led to a deal. Then the pandemic hit the world and disrupted the status quo.
Under the global lockdown, delivery services skyrocketed immediately.
People self-isolating needed essential goods, and the safest way to get these was to order online for home delivery. Quarantine proved to be an absolute boon for the food delivery sector as the pandemic more than doubled the food delivery apps' business.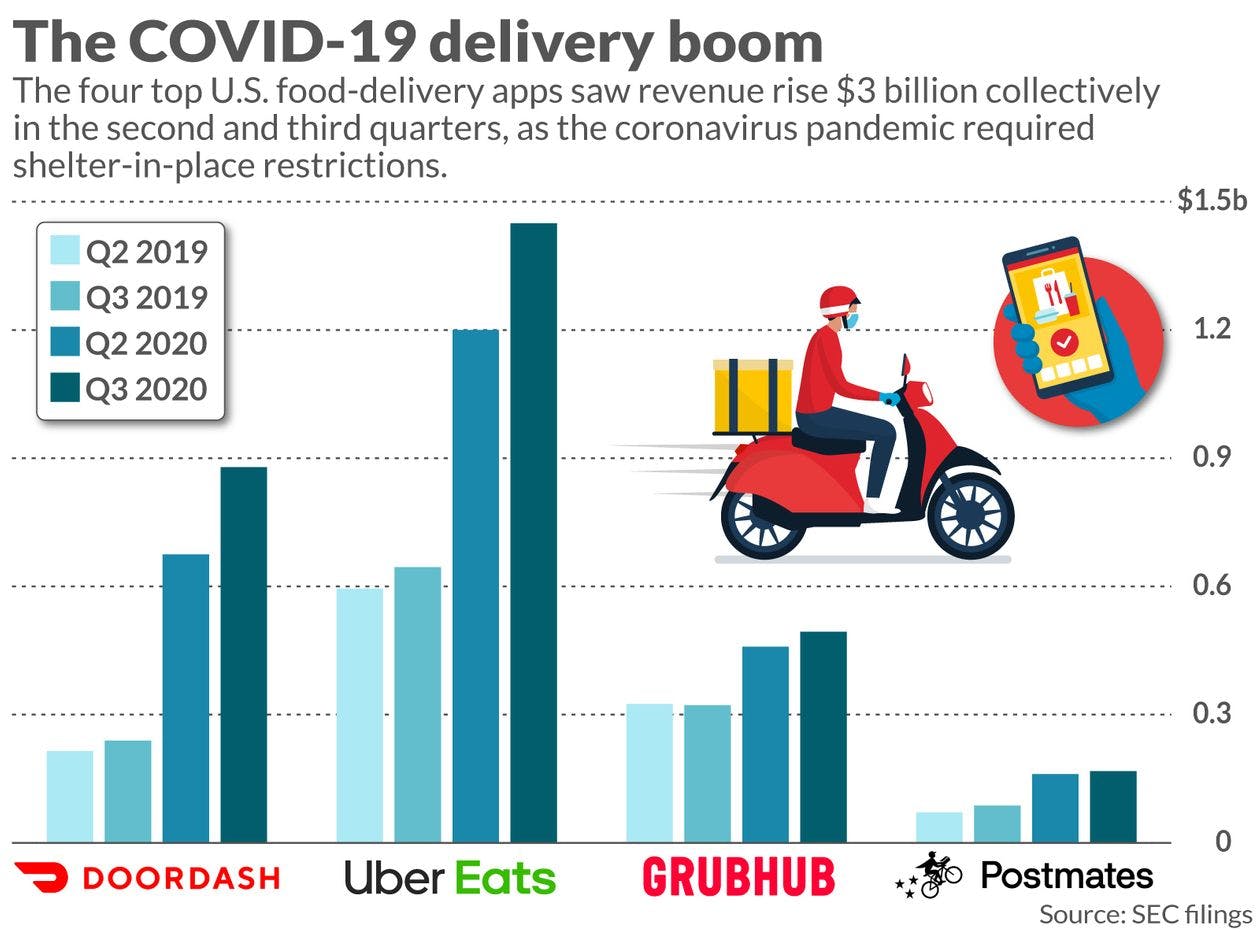 It may seem like the industry giants control the market, but that's not entirely true. Food delivery startups worldwide soared during the pandemic and are still gaining influence. For example, Glovo — a startup from Spain that delivers restaurant take-out, groceries, and other items in partnership with brick-and-mortar businesses — picked up $528 million in funding. Likewise, Gousto, a UK meal-kit service, managed to raise $41 million under lockdown. Gorillas, the on-demand grocery startup that aims to deliver goods in just ten minutes, raised $290 million and surpassed its initial one billion dollar valuation. 
Not such good news for the restaurant industry though, which suffered a heavy blow as thousands of eateries struggled to overcome the crisis. Those that survived adjusted to the new reality by focusing their business strategies on takeaway and delivery services. 
Nonetheless, even resilient restaurants are still struggling, particularly with the high fees that delivery services charge restaurants on orders. Third-party delivery services like Uber Eats, DoorDash, and Seamless are prohibitively expensive with charges reaching up to 30 per cent per order.
What to expect in the future
The demand for delivery services remains high, but this boom may not last forever; sooner or later, pandemic-driven growth will slow down. However, off-premises dining will remain popular even after the pandemic subsides. According to September 2020 data from Datassential, 59 per cent of food delivery customers said they would continue using delivery apps after the pandemic ends. 
Zero-contact deliveries?
The industry responded to the pandemic by emphasising health and safety precautions. Many companies, including Delivery Hero, urged customers to go cashless and promoted contactless deliveries. Such precautions minimised unnecessary interactions and reduced the risks. Paying online is standard, of course, but the concept of contactless delivery only entered the spotlight recently. 
With the adoption of autonomous vehicles and robots, we might soon see zero-contact food deliveries. The first step in this direction has already been made as Postmates rolls out its self-driving delivery robot that uses cameras and light detection to navigate sidewalks. An automated delivery process might help companies to save costs from a long-term perspective. Besides, it would have a positive environmental impact by reducing carbon emissions.
Now that we've delved into the market and the future, let's examine some potential models for your delivery app.
Choosing a Food Delivery App Model
Food delivery platforms are divisible into two main categories: platform-to-consumer and restaurant-to-consumer. The former is suited to small businesses that rely on third-party providers to manage all the delivery formalities while the latter works well for established businesses with the ability and resources to provide delivery services.
Let's take a closer look at each model to find out its benefits and pitfalls. 
Restaurant-to-consumer 
Under this model, restaurants own branded apps and are fully responsible for the execution and delivery of orders. All major restaurant chains such as McDonald's, Pizza Hut, and Burger King rely on branded applications to promote their brands and provide a personalised customer experience. Domino's, for example, simplified the ordering process by introducing the Zero Click app, which makes ordering pizza easier and quicker. All the user needs to do is launch the app, it's as simple as that.
Developing a branded application requires extra time and expenses but is beneficial in the long run for established companies, as the app actively helps establish the brand's name further. For more information, read our in-depth article on building a mobile app for restaurant orders.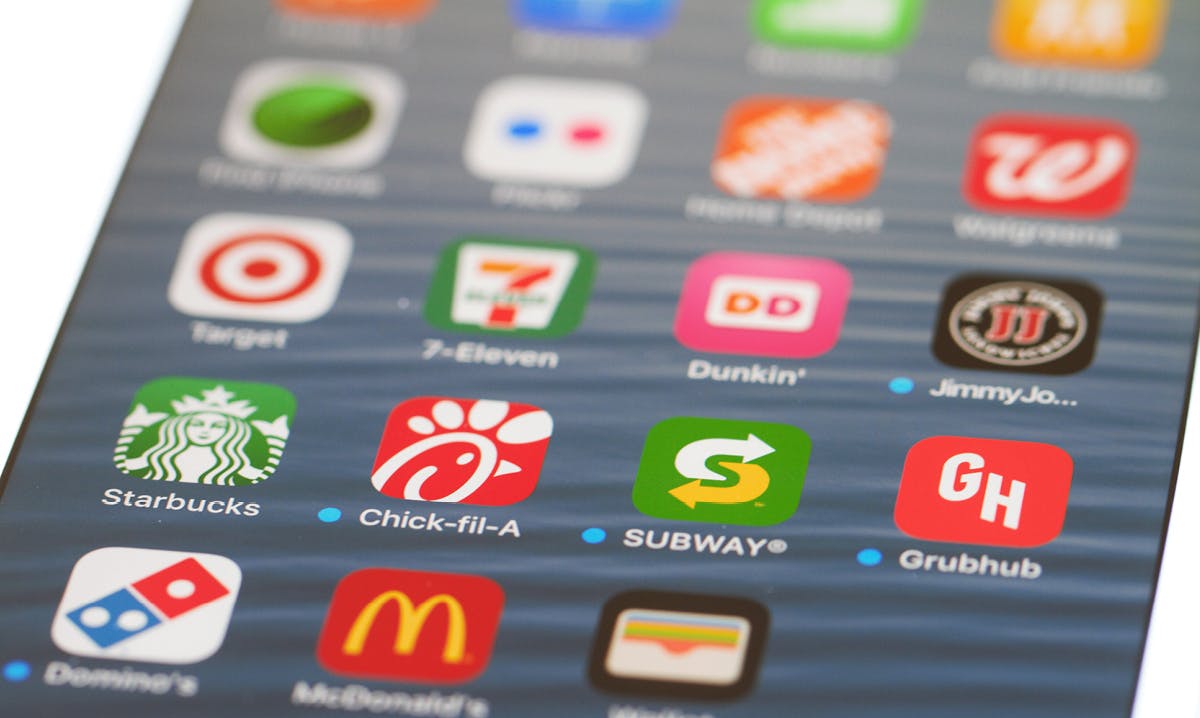 Platform-to-consumer
One option for small businesses to expand with food delivery services is via collaboration with delivery providers. Statistics show that working with third-party delivery services can raise a restaurant's sales volume by 10 to 20 per cent.
To order food from a specific restaurant, the user has to know which delivery platform the restaurant uses and download the relevant app. Not all businesses partner with major platforms such as Uber Eats and GrubHub; many prefer less popular options for their more flexible fees. 
Within third-party applications, customers can place an order, pay for it, and track the delivery process. Collaboration with third-party delivery providers brings both businesses more clients and revenue. Additionally, it allows restaurants to concentrate on the quality of their food rather than worrying about driver payments, tracking order delivery statuses, vehicle maintenance, and other aspects of delivery services.
Building a food delivery marketplace app is more challenging than building a branded application as it requires the integration of numerous APIs and a scalable backend. On the other hand, it is more profitable as platforms earn revenue from both restaurants and customers by charging a fixed fee for each order. 
Industry Trends To Consider
Competition in the online food delivery segment is tense and many companies lure customers with creative digital approaches to the ordering process. Here are a few examples of innovative digital solutions food delivery apps are using.
Social media orders
People spend hours browsing social media and delivery companies have spotted a viable opportunity in food ordered via social networks. ChowNow integrated its ordering system with social media platforms and created a new ordering feature for Instagram. Now, over 13,000 partner restaurants can accept orders through the Order Food button on their Instagram page or with stickers in their stories. This feature will help restaurants drive revenue and boost order volumes, the company says.
Smartwatch
Smartwatches are probably our second-most loved gadgets after our smartphones; no wonder the current surge in the smartwatch market is massive. Some companies took this trend into account and developed apps for smartwatches. 
Domino's introduced its Android smartwatch application, a simplified version of its web and mobile apps,  to ease the ordering process and cover more potential user bases. The Easy Order feature means users can order pizza from their wrists in just a few clicks, then the user's smartwatch displays information about the order's status — no need for phones.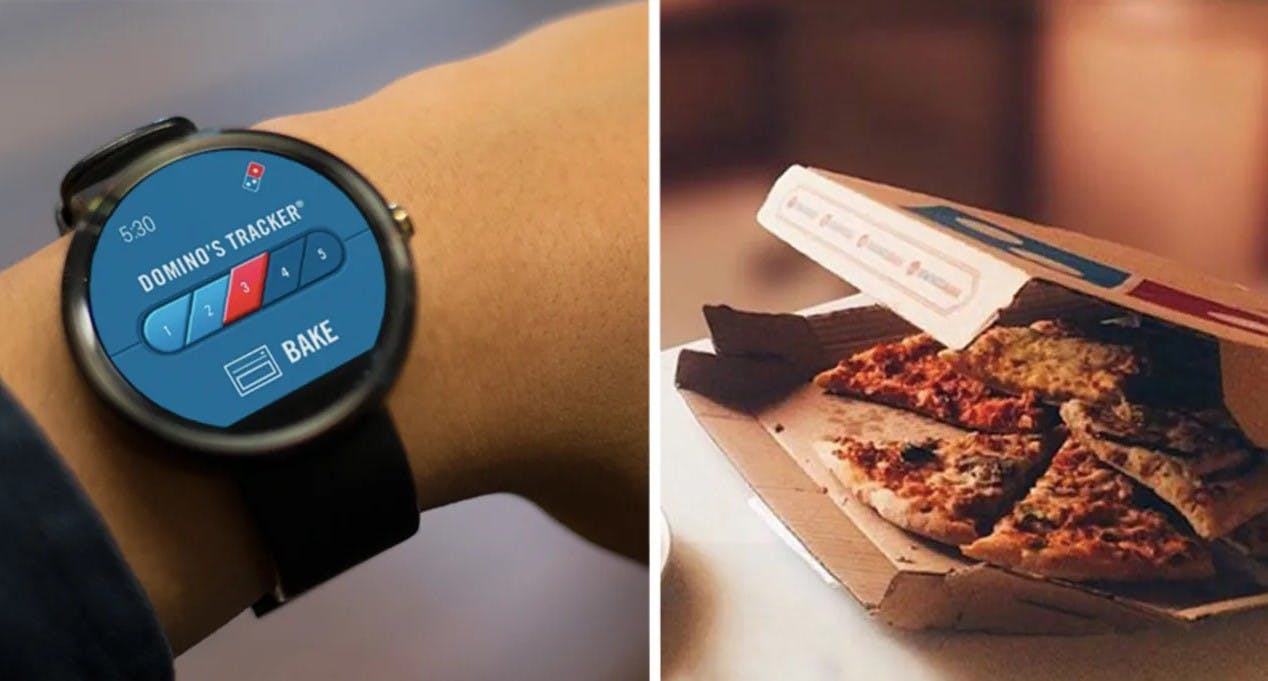 Virtual assistant
Technologies such as Alexa and Siri swiftly became our digital companions, assisting us with numerous routine tasks, so why not engage them in the online food ordering process? Caviar recently introduced a Siri shortcut that lets users check order statuses or reorder frequent items through voice commands such as: "Hey Siri, order my usual pizza" or "Hey Siri, Caviar order status."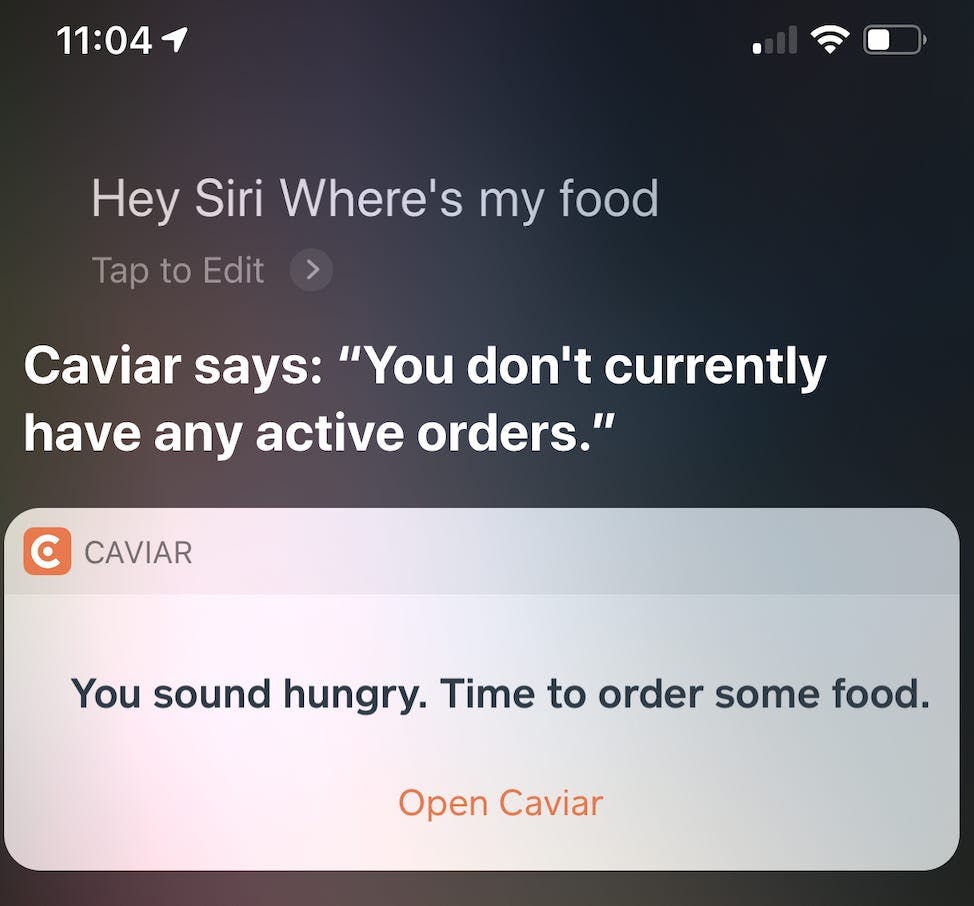 Another example is Grubhub, which added an Alexa skill that lets users reorder any of their last three purchases with the command: "Alexa, open GrubHub." Alexa then recites previous orders for the customer to choose from, and after processing the order, Alexa announces the estimated delivery time.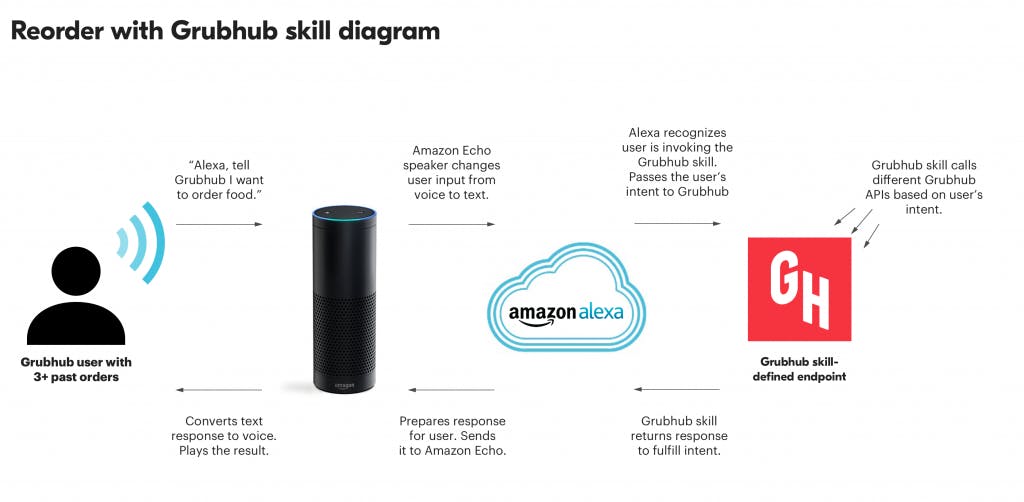 For the best chance of success with your delivery application, analyse key industry trends carefully. Implementing cutting-edge digital solutions is beneficial for the business in the long run, but requires significant investments, so might not be the highest priority for startups with restricted budgets.
Key Features of Food Delivery Apps
If you intend to launch a food delivery platform that connects diners with local restaurants and provides delivery (such as GrubHub or DoorDash), you need to develop three separate applications: for customers, couriers, and restaurants. Each app must have a set of basic features to make the ordering and delivery process smooth and convenient for all sides. We've highlighted the essential features for each application below.
Customer app
Within this app, users should be able to view nearby restaurants and their menus easily. For greater convenience, the app should include search filters and order tracking functionalities. Consider implementing the following features:
Profile creation and logins via social media channels
Search filters (by cuisine, price category, delivery time, etc)
Ordering from the menu
Multiple payment options
Real-time delivery tracking
Push notifications
History of orders
Rate and review
24/7 customer support
Courier (delivery) app
The delivery app is similar to the customer's application. It should provide delivery workers with easy access to available orders and must include a built-in GPS navigation feature for pick ups and drop offs. Among other key delivery app features are:
Registration and profile editing
Managing orders (including checking order details, accepting/rejecting a delivery request, etc)
Status update (accepted/picked up/delivered)
Push notifications
History of delivered orders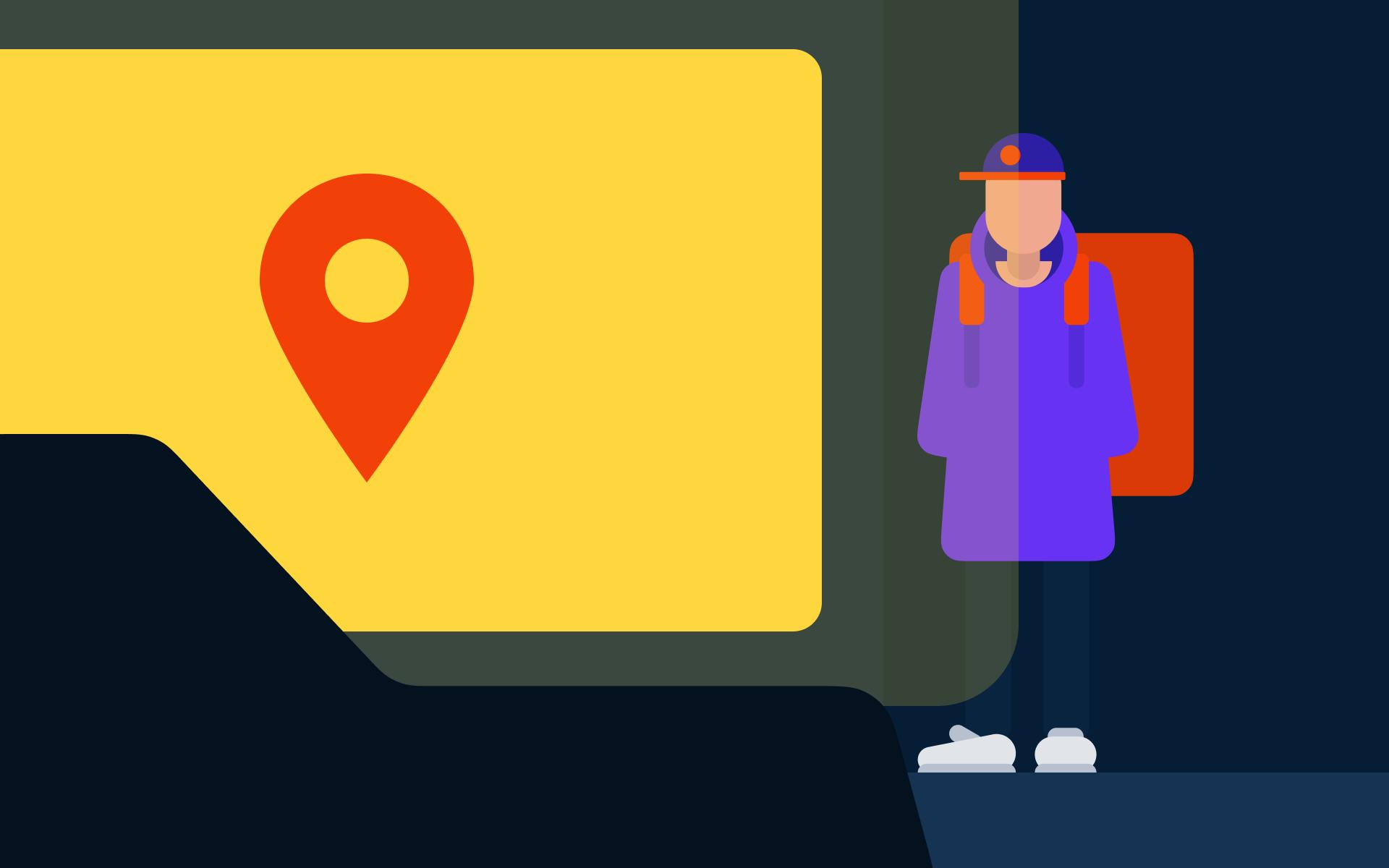 Restaurant (merchant) app 
The primary role of a restaurant app is to notify the platform's partner restaurants about incoming orders. When an order is ready, restaurant managers can use the app to assign the delivery to an available courier.
Some platforms provide analytical tools so restaurants can collect statistics that help with customer retention. Apart from that, restaurant apps should include the following features:
Content management (adding photos and updating menus)
Loyalty campaign creation (create vouchers and sales, promote special offers)
Financial accounting
Push notifications
Cross interface communication (with couriers and customers) 

To develop all these features, you need powerful software development kits (SDKs) and tools. Below, we detail the technologies used in food delivery app development.
Defining the Technology Stack
Your app's key features define the set of technologies needed. Because food delivery apps handle lots of data, they must be backed up by a reliable and scalable backend. Integrated payment systems also matter as users pay for orders via the app. Restaurant listing APIs provide detailed information about eateries while integrated GPS tracking systems allow orders' movements to be tracked. 
So which SDKs and tools can be used in on-demand food app delivery development? Here's the tech stack needed when building a food delivery application.
Back-end
To store all the data food delivery apps use securely, you need a powerful backend solution. In our Tayble project — an order processing app for restaurants — we switched from Firebase (used in the app's prototype) to MongoDB, a more robust document database known for high performance and exceptional security.  With MongoDB, we could create a scalable database with load balancing capabilities. It also allowed us to create regional replicas.
Payment system 
There are numerous online payment solutions, and each comes in a different format. It's best to integrate a  payment platform that's efficient and reliable. Stripe and Braintree SDKs are simple, robust and work well in apps where online payment is required. 
In Tayble, we were able to integrate eight point-of-sale (POS) systems at once, in cooperation with Doshii, a cloud platform that combines different POS systems in a single API. 
Restaurant listing 
When launching a food delivery platform with multiple restaurants, your main priority is to provide access to all the essential information, such as restaurant addresses, working hours, menus, and so on. Luckily, numerous API solutions, such as GrubHub, Zomato, and FourSquare Places, are available. These third-party APIs provide users with up-to-date menus and pricing. Zomato API, for example, holds information on more than 1.5 million restaurants in 10,000 cities worldwide. 

GPS tracking
Technology that pinpoints the user's location is necessary for any food delivery app. To determine the user location and monitor the movement of orders, consider technologies such as Google's Geolocation API for Android and the CoreLocation framework for iOS. With MapKit and Google Directions APIs, you can provide couriers with directions. Google Maps can be integrated into both Android and iOS versions. 
Messaging system
For quick and smooth deliveries, a proper communication is crucial. An in-app messaging system allows restaurants, couriers, and customers to stay in touch and keeps communication channels open. Twilio is a leading communication platform, but there are decent alternatives such as Plivo, MessageBird, Nexmo, and others. To understand which fits your app best, check out our research on integrating messages and calls into a mobile app.
Food Delivery App Development: Timescale And Cost Estimations
Approaching cost estimations in app development entails consideration of several factors including: the project's scale; the platform the app is launched on; the number of features and their complexity; the number of third-party integrations required; and developers' rates. 
Building a food delivery app that performs well is a matter of having the right team. Find developers who have experience in varied areas of mobile app development such as project planning, back-end, front-end, UI/UX design, and quality assurance.  Hiring a skilled developer who can contribute to your idea is not always an easy task though. We highlighted a few key points on this process in our article: how to hire a mobile app developer.
For a clearer picture on costs, let's take the average rates of the development team located in Australia (prices are in AUD).

Knowing average hourly rates, we can calculate the cost of one sprint,  a short, repeatable software development period when a development team completes a set amount of work. Working in sprints allows developers to produce a working prototype early on in the project. This approach is beneficial as developers can hear client feedback on an actual working product rather than just technical specifications.
At MadAppGang we rely on sprint-planning as it aids the development process, reduces risks, and ensures a better quality product. 
Once you know the approximate cost of one sprint, you can roughly estimate overall development costs. Note that the number of sprints required can vary widely depending on your business and technical requirements. Since our Tayble project is in the same industry, let's take it as a reference point. It took us one year to deliver both iOS and Android apps, which means we developed a full-featured app for each platform in 12 sprints.
Mobile food delivery was one of the previous decade's fast-growing trends, and with the COVID-19 crisis, it immediately became an essential service. 
Investment opportunities in the industry are plentiful  — as is the competition. However, with a smart business strategy and a nimble approach to product development, the chances of success are high. 
When starting a food delivery business, a well-performing, beautifully designed mobile app is of the utmost importance. Our experienced team can help you with this matter. Just drop a line with a brief description of your project and we'll be in touch to discuss the details. 
22 April 2021 food delivery app development